This log cabin block pillow has been on my mind for a long time.  I love the idea of modern twists on traditional blocks.  Also, I needed  new ideas for my leftover fabric!  I have made several others- like this and this.  It's important to remember our rich sewing history and realize that quilting with fabric scraps has been done for so long and was out of necessity too!  Aren't we lucky we get to do it for fun now?  And, by making this pillow you can use up your leftover fabric!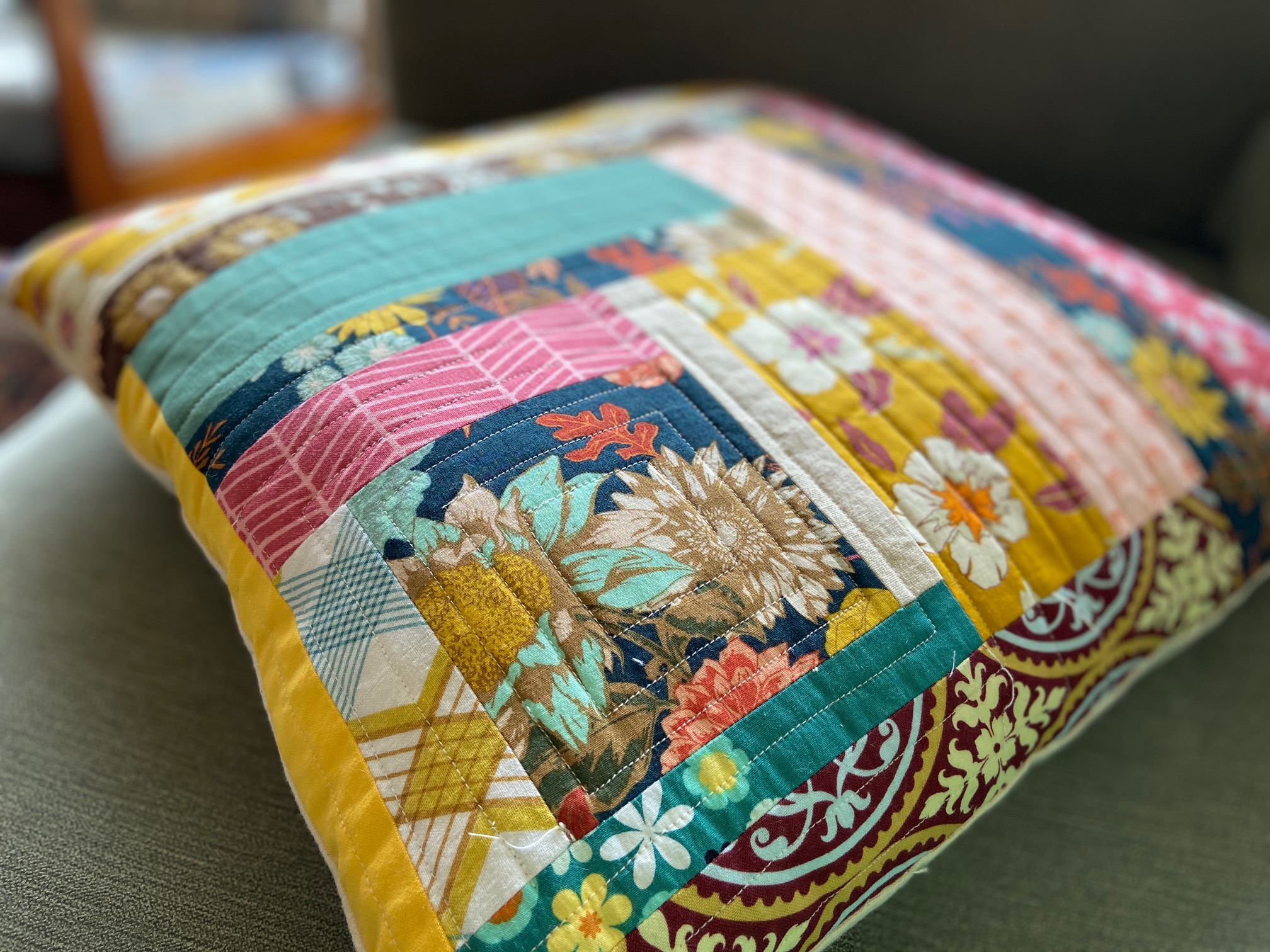 In my video tutorial below I show you how to start with an ispiration fabric block (I chose this one from Art Gallery Fabrics) and then move on with your own leftover fabric scraps from there.  This is just to give you some fresh ideas!  I used a pillow form that I already had to determine the size of the block.  This was an advantage of this piece because you can just keep adding strips to make it the size of the pillow form you have handy.  A great idea to use up thing you already have!
Want to make more like this?
I have a great pattern to take your skills to the next level!
This video tutorial shows you how to make the Log cabin block which is the colorful front of the pillow.  After you make your own version with your leftover fabrics, you will need to quilt it – I use warm and natural cotton batting.  I sewed sewed straight lines but use your own ideas!  Then create a backing- like the one I did in this video.  For the backing, I usually use a solid neutral fabric.  I hope you get to make one soon using your leftover fabrics!  It's a great project to not only use up your leftover scrap fabrics, but also work on your fabric combination and design skills.  Please leave me a comment or questions below!  I also would love to hear your ideas!