I like to collect embroidery hoops from the thrift store.  I find them irristable for some reason.  I have finally put some to use!  

I saw some stylish blogger do this and I searched for the link but can't find it.  Maybe V & Co?  Anywho, I really like how it turned out.  A friend's friend gave me a huge bag of fancy fabric samples a few months ago.  Today I finally realized my hoops could showcase this set!  None are all that great separate but as a grouping, I like it.  For a few months I have been trying to put all sorts of fabrics in my hoops but none of my combinations seemed to work.  This was an easy solution since a fabric designer did it for me!
In other VERY important decorating news, I acquired a couple of cool old mantles and finally got one set up.  I love my 70s split level house (seriously I do) but there are a couple of big empty walls that have been kinda challenging for me to decorate.  I thought a mantle would be nice to break it up.  We all know you don't really need a fireplace to have a mantle, right??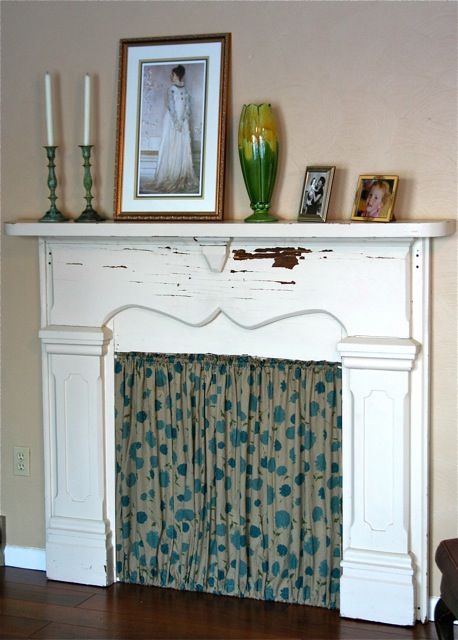 Cool, right?  I decided I liked how the distressed paint looked and only had to clean this baby and scrap off the flaking paint.  I used a couple of small tension rods made an easy curtain.  It's the girls new favorite spot too..

Here Elsie is telling their new joke and Anne is waiting for her turn to tell the joke again.  
2 guys are walking down the street.
One guy says to the other, "Hey, there's a banana in your ear."
the guy says "What?"
The first guy says, "THERE"S A BANANA IN YOUR EAR!"
the guy says "WHAT?"
The first guys says, "COME ON!  There's a banana in your ear!"
the banana guy says" HUh?  can't hear ya.  There's a banana in my ear!"