I have been trying to psyche myself up to try upholstery for a long time.  This project I did over the weekend was yet another step to get me there.  I found 6 of these chairs at the thrift store for $25.  I really only needed 2 but at that price, I just got all of them!  I'm sure I can find homes for them sooner or later.  I loved the shape of the chair and thought the cushion would be a good candidate for practicing upholstery.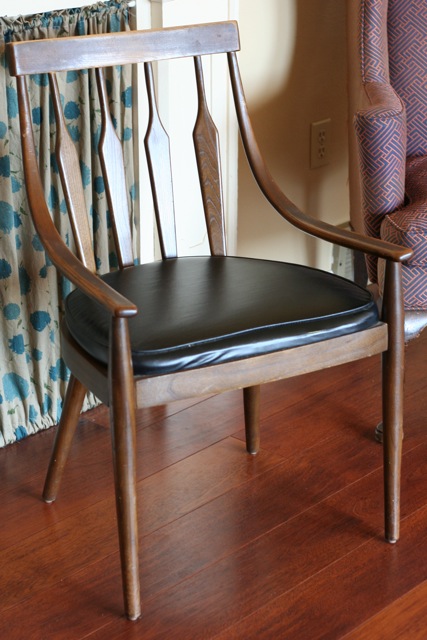 Nice pleather seat, huh?  That stuff was like hard plastic!  I took the seat off (just turn these types of chairs over and you will see that just a couple screws are holding them on).  Then, with a pair of pliers and a flat head screw driver, I took off the cover.  All the staples were kind of a pain but really not too bad.  I took apart the cover with my seam ripper and scissors and was careful not to let it rip too much.  I had to use it as a template to make the new cover!
I had some 2" foam around so I added an extra layer of cushion on top of the existing foam.  I just used the existing shape cut it with my scissors.  The edge wasn't perfect but it doesn't matter much when you get the new cover on.
I also used the piping from the old cushion and recovered it with my own nice fabric.  This was a clearance upholstery weight fabric at Joann's.  There was only about .75 yards and thought I would make some throw pillows.  This is a much better home! 

If you want more specifics, you can email me.  But basically, just use the existing cushion as a pattern to make a new one.  Then, use a staple gun to attach it to the bottom of the seat.  This was so satisfying and I love my new chairs.  Getting more confidence to rip into that wing chair that I have been saving forever!