Last week I took a break from sewing up skirts and dresses from KCWC and my 2 friends Rachel and Michelle came over for crafternoon (name creation from Michelle!).  Really, crafternoon was all about sewing since we were at my house and as you may know, sewing is kinda my thing.
Rachel, a beginner, brought over her brand new One yard wonders book (pretty cute book!) and we chose a simple purse for her to make.  No pictures yet since she has a little bit of hand sewing to complete the bag. Michelle has some sewing experience and we went through my scraps and she made a really cute bird pillow to match her other throw pillows on her couch.

Didn't she do a great job on the bird wing?  I love it.  Photo courtesy of Michelle.
I made pillows for myself based on the ones I saw on Country living cover this month.
They look easy enough, right?  I swear my brain had to bend every which way to coordinate the stripes correctly!  The other girls tried to help me and after cutting many incorrectly, I finally got it right!  Although my pillows make squares and the country living ones make crosses.  I really like how mine turned out and they give a more modern touch to my decorating.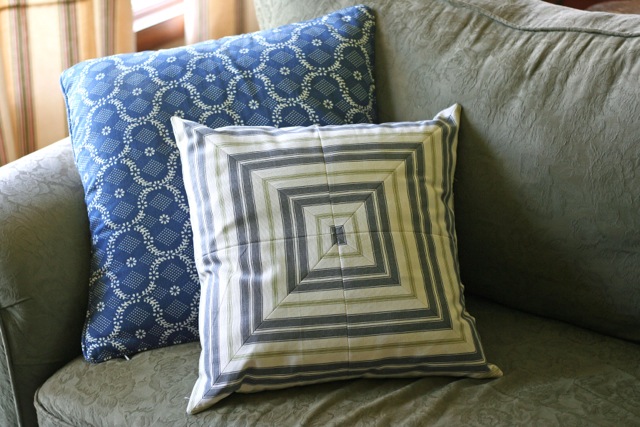 After I got that one together, I realized I had cut enough incorrectly to make a 2nd pillow!!  Can you see how the center of the above pillow is dark and the one below is light?

Yep- making this pillow was all about that center match up.  It was a delightful treat to realize that all the scrapped pieces were not a waster after all!  Anyone else ever casually attempt to sew something and find out it it much more complicated than you thought?  Well I love the look of my new pillows and would never have treated myself to finally making them if it weren't for crafternoon with Rachel and Michelle! Thanks ladies!  Hope to do it again soon!