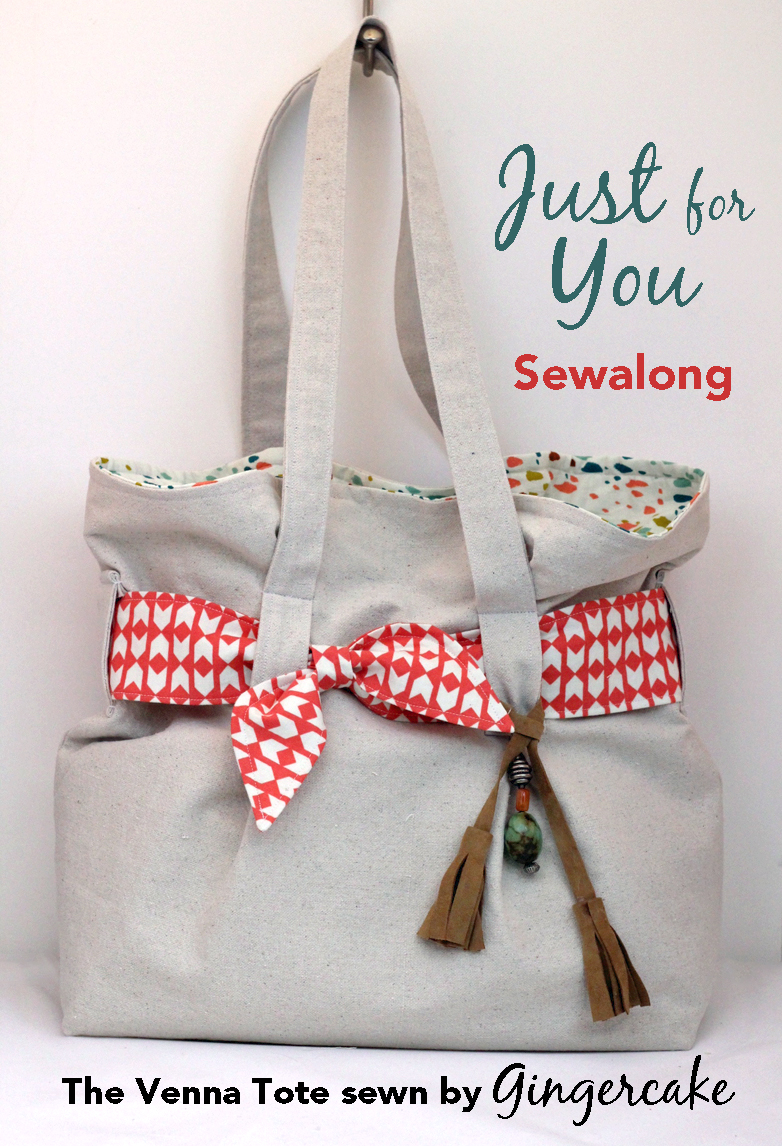 CHANCE TO WIN A COPY OF THE BOOK!  Read through and leave a comment at the end for your chance to win 🙂
Sweet!  Today I am the "Sewlebrity Sewist" for Caroline and Sarah's fantastic new book, Just for YOU: Selfish Sewing Projects from Your Favorite Sew Can She Bloggers.  This book is full of special and creative projects by some wonderful designers that are part of the Sew Can She Community.  Check it out!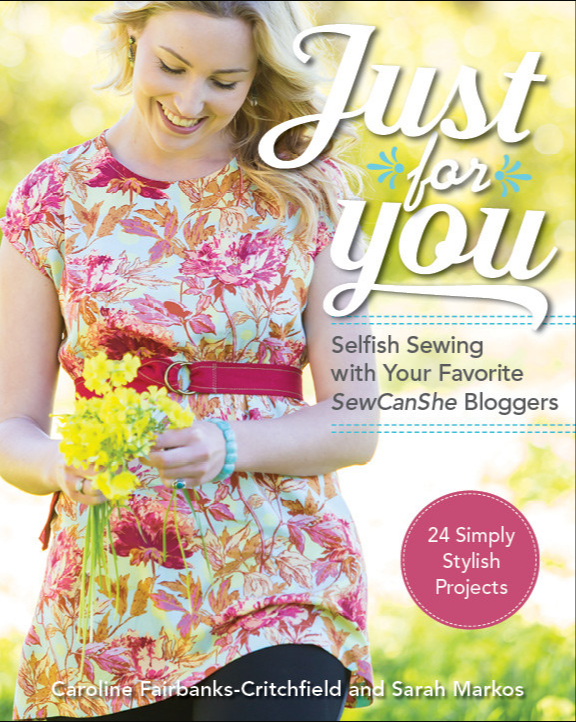 I chose to make the lovely Venna Tote by Sarah Markos.  I love making bags since I always learn something new and it feels really great to make something for myself.   This bag was well designed and has plenty of room.  The fun box pleats and the belt make it extra special without having the pattern become too complicated.    I really liked being able to spend just a few hours on this bag but to come out with something really pretty and useful.  Below is Sarah and Caroline's version…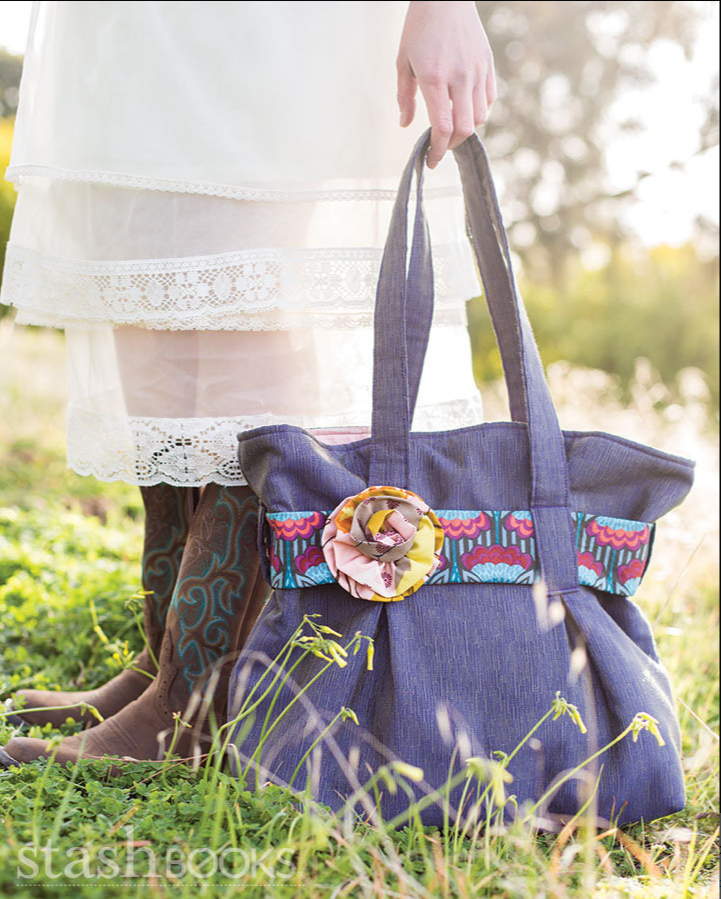 I admit that I made 2 versions of this bag and the first one was a flop.  I used a big bold Ikea print that I have had for a few years and it ended up looking clownish.  Sometimes trying to make a statement turns out not so good…  but then I started again and used my favorite painters canvas and some bright Cotton and Steel prints and it came together so much better.  I have been really into tassels lately too, so I had to add my favoite tassels and beads to give my bag a little extra kick.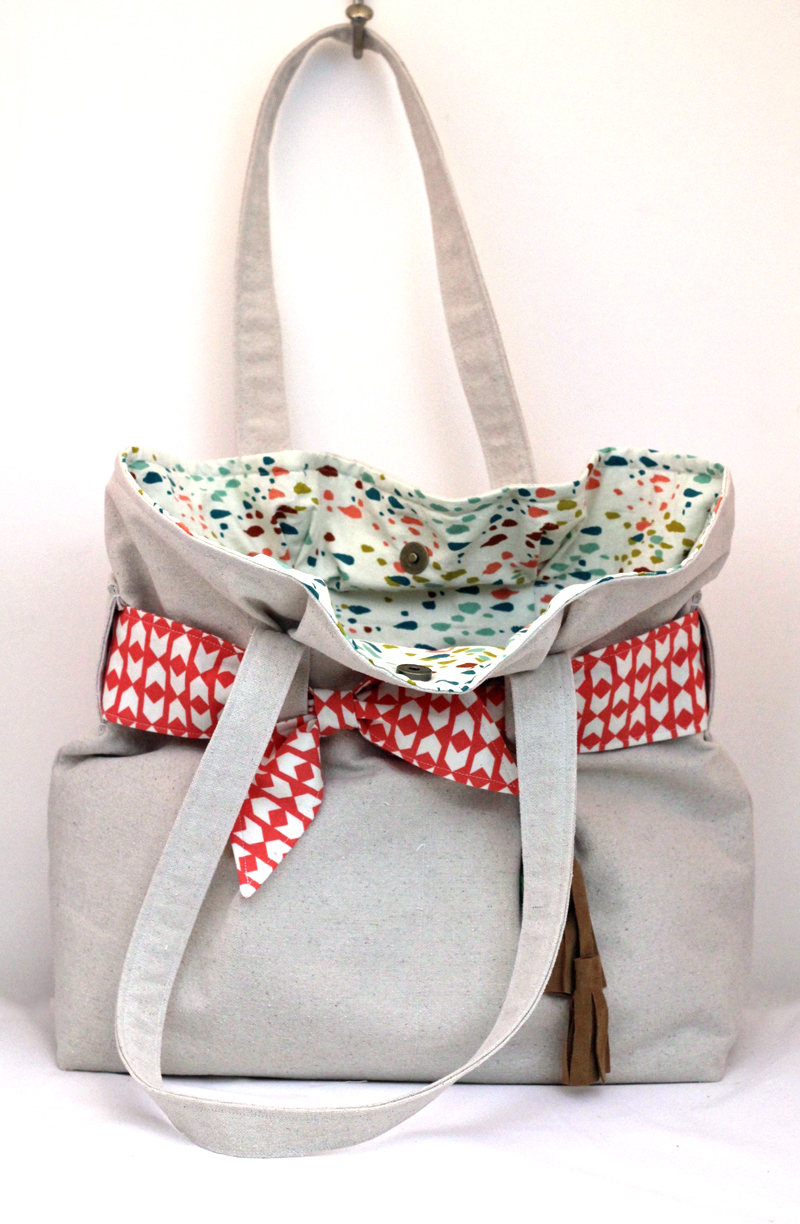 I also made a tie instead of the rosette which was an easy adjustment.  I like the tie a lot (and I have never been able to make a good rosettes!  This would have been a good opportunity to get better but opportunity knocked and I chose not to listen-ha!)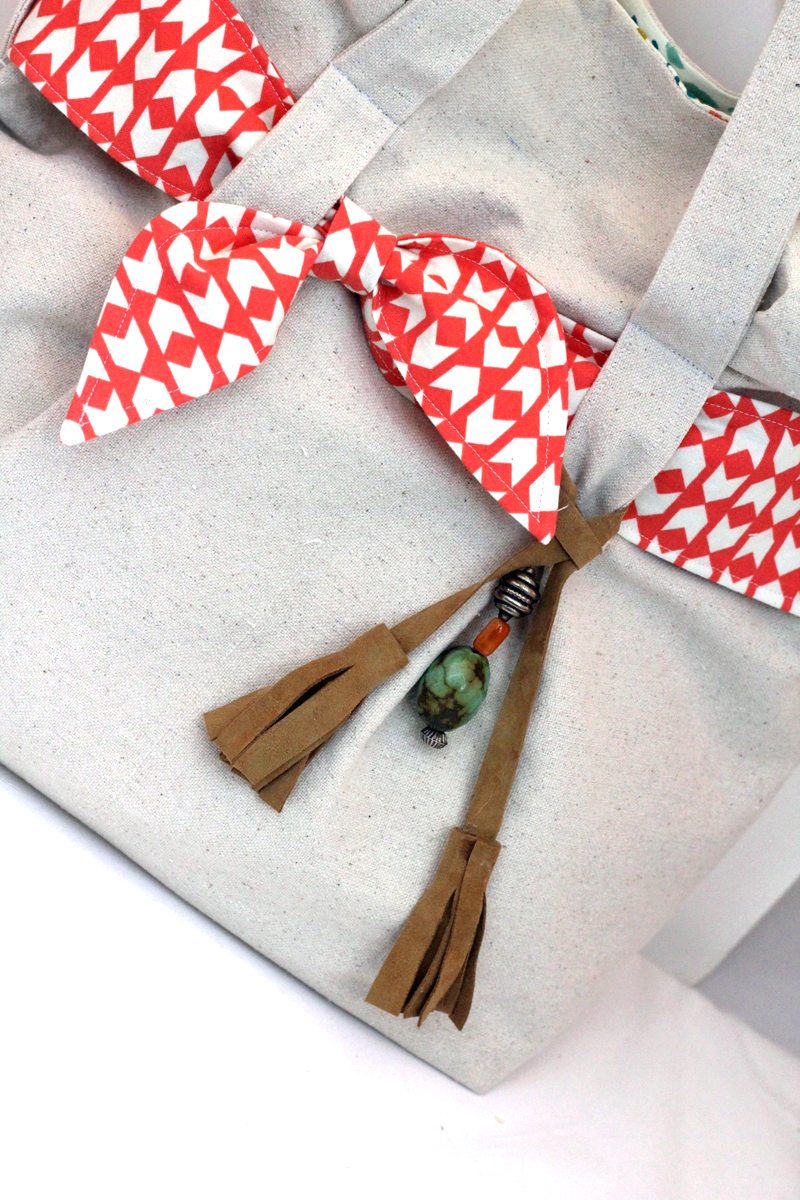 It is -2 degrees here today and this bag makes me so happy thinking of warmer weather!  I can't wait to use it wearing short sleeves and a long skirt.  It gives me hope!  Doesn't it remind you of warm days too?  I feel so jealous of the book photos in that beautiful weather!  This book has fabulous photography, by the way, all done by Caroline and Sarah themselves!

Now are you ready for your chance to win a copy of the book?  Tell me what was the last selfish sewing project YOU made for yourself.   Was it a bag?  Perhaps a dress?  An apron?  Guess what?  All those projects are in this book!!  I can't wait to try out more!  Be sure to visit the Amazon page to see a longer preview…
So, leave a comment here on my blog about your most recent selfish project and I will announce the winner on Monday, February 23rd.  U.S. residents will receive a hard copy of the book and all others will get the ebook (which is what I have and it is fantastic too!)  Giveaway is now closed.  #48, Lynn won.  Congratulations Lynn!  Thanks so much to Caroline and Sarah for including me in their Sewalong.  It was such a pleasure to sew this lovely and clever bag!