Frankly, I am not all that organized but I do have some tips for you people who struggle with this aspect of sewing.  Being even moderately organized makes sewing more enjoyable and that is what Gingercake is all about!  Making sewing more fun for everyone (including myself!)
So, listed in no particular order of importance, I will tell you my TIPS!
Do you prefer video format?  If so, here is a video I made on this topic.  Or just scroll down for the info…
1.  SCRAPS!  Yes, they are so great and fun to have around,  YES, they will take over your sewing room and drive you nuts the longer you sew because they just keep piling up!  My solution is nothing fancy but it gets the job done and makes my scraps available for future projects.  I have several mesh wire bins from the dollar store (nothing fancy and not worthy of a picture!) in which i place my scraps as I sew.  Then, about once a month (truthfully more like once every six months) I divide all my scraps into color groups- yellows, blues, greens, pinks, etc.  place them in zip lock bags and store them away in big plastic bins for big fun scrappy projects like these…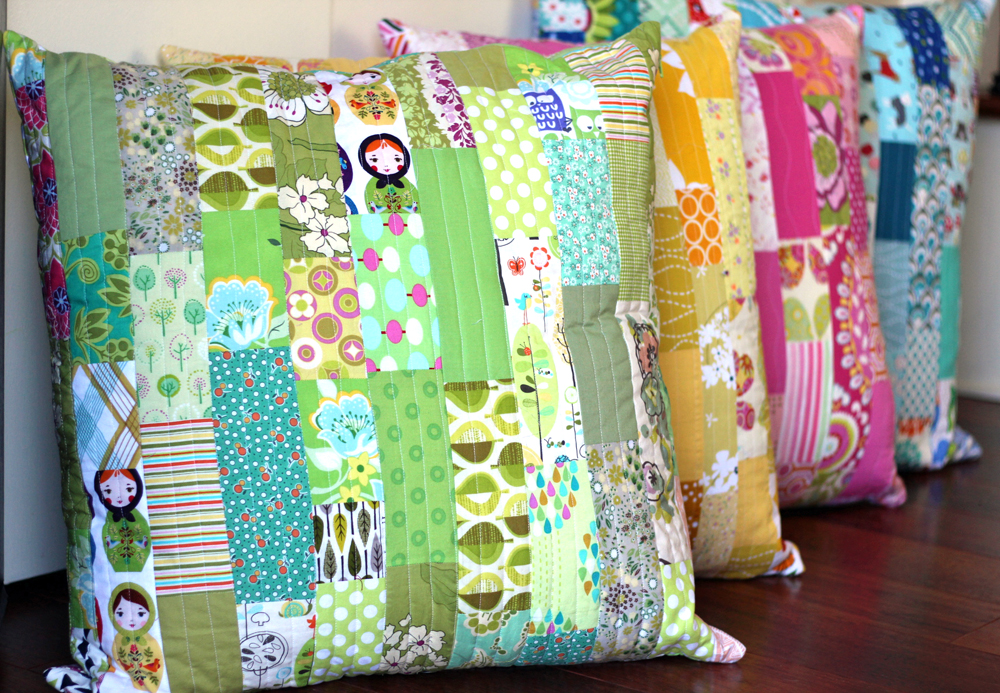 This photo below is a pretty way to organize your scraps by color like I recommend.  I don't use such pretty containers but this is the method that I like and recommend!  Click on the photo to take you to the FLICKR page 🙂
The last comment I want to make about scraps is be selective about what you save- only keep the pieces that are easily used.  GO ahead and throw away the tiny and oddly shaped pieces.  AND, think about making scrap projects- you don't want to do patchwork with a bunch of different weights of fabrics so be selective- i only save large scraps of duck cloth or knit because they aren't going to mix well in a scrappy patchwork project like a bunch of quilting weight pieces will.
2.  TOOLS.  Some of us love a variety of sewing tools and others get by on the very basics.  I am somewhere in the middle and often lose favorite things if my sewing room gets particularly disorganized.  Where do they go I ask you??  Well I usually find them when I put some work into cleaning  my sewing room but in a flurry of creativity, they are bound to go missing again!  Here is how I keep my tools handy on one of these peg board things above my work table.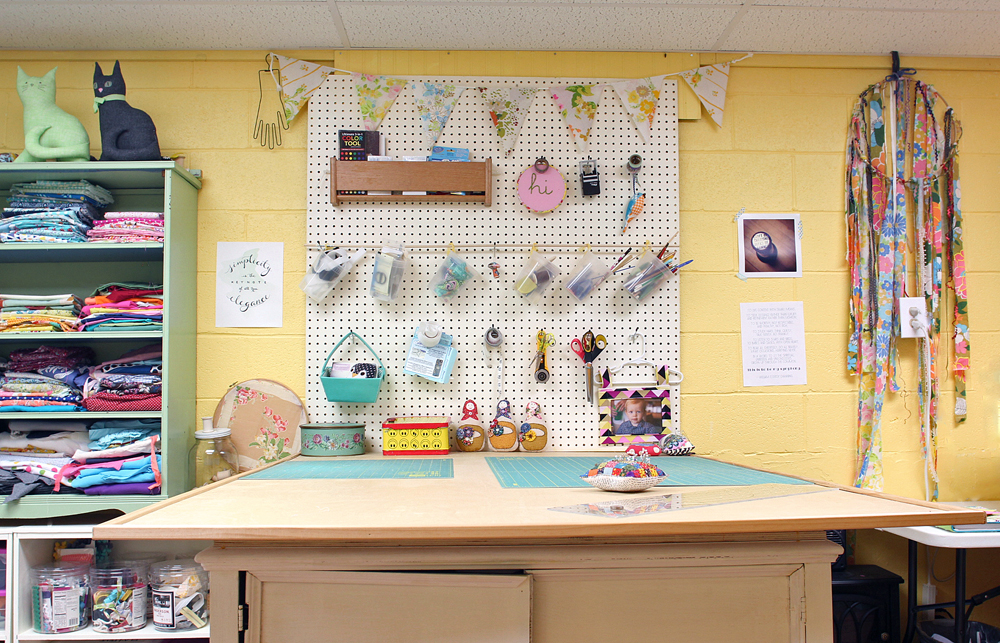 I decide to go ahead and buy 3 more pairs of scissors while they were on sale and that was a purchase I will never regret!   They are not very fancy but get the job done for sure.   So, your tools should be handy and easy to find.  My favorite tools?  Scissors, rotary cutter, seam ripper (go ahead and have 3 or 4 of those too if you sew more than once or twice a year!), water/ air soluble marker, bodkin (although I lost mine of course), plexiglass ruler, self healing mat, pencils, tube turner, chopsticks!    I also love me some fray check and steam a seam lite.  Yummy!  If you don't have a ton of space, this is a good option (and very cute too!)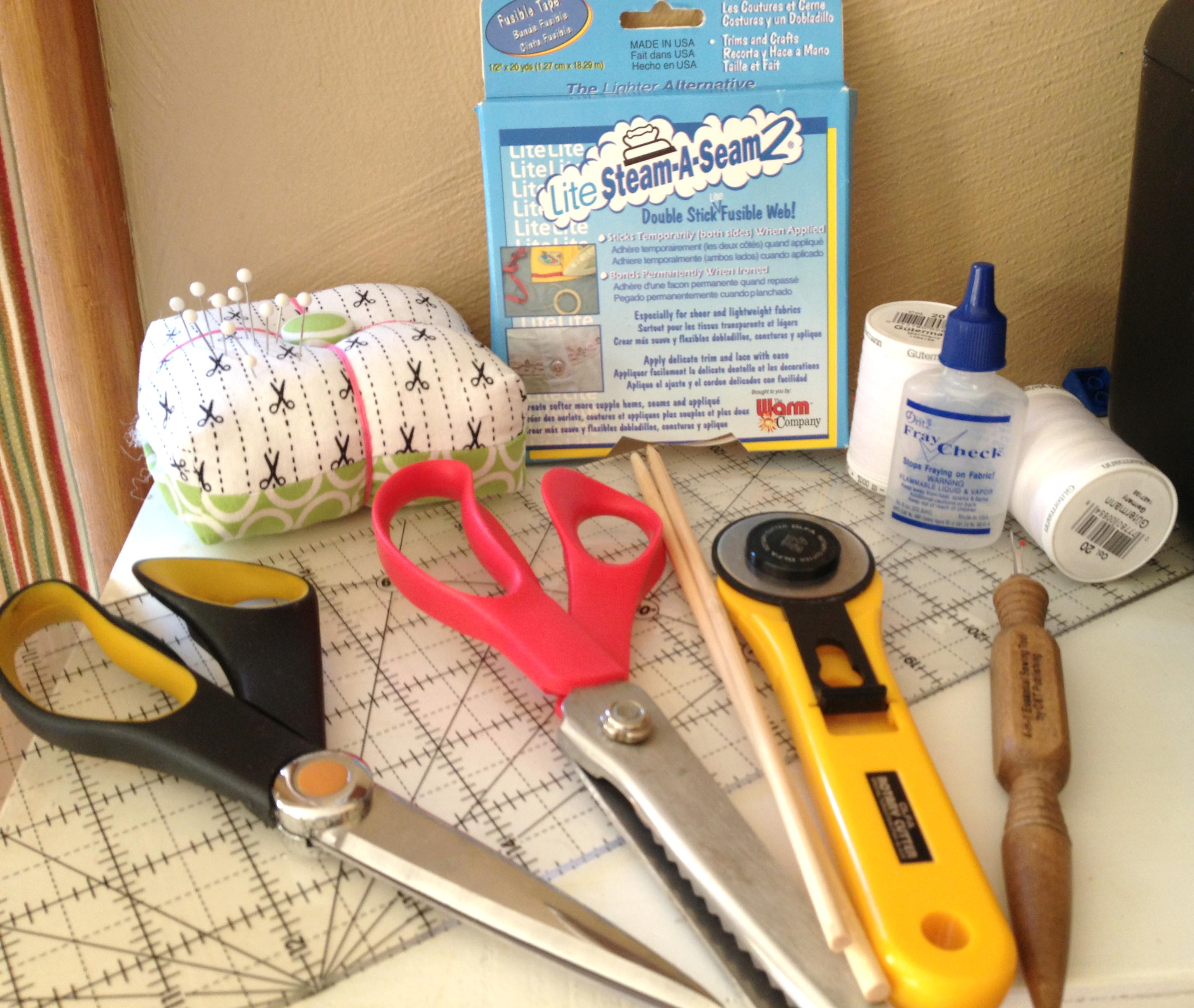 3.  A big problem I have organizing are printed out PDF sewing patterns.  UGH.  They are such a pain!  You don't want to have to print them again but they are a hard to keep organized to have hanging around.  For my own patterns, I have is curtain rod idea that is actually really nice and easy.  Simply hang a cheap curtain rod, get those rings with hooks, and use gallon size storage bags.  I used a sharpie to write the names of the patterns on the bags.  Easy!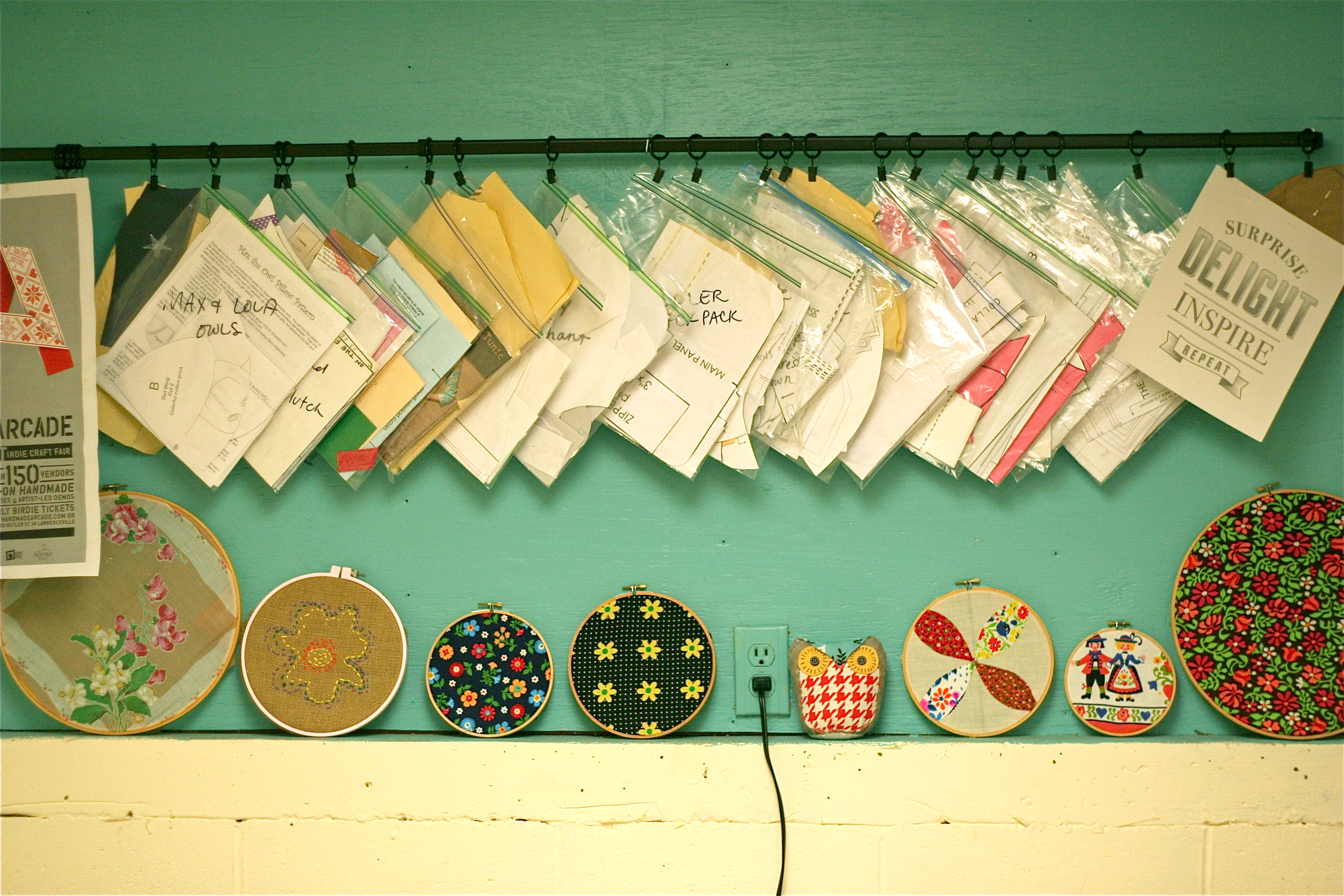 The problem for me is the big garment ones- especially for my little one because her size changes and I want to keep the original and the ones I traced for the original, etc.  I have a large storage bin- the under the bed type that is about 24" x 36".  I store the large printed out patterns in there.  Not a great solution!  But since I only use them every once in a while (or never again in spite of my best intentions!), it works OK for me.  If you are a big garment sewer, this blog post by Grainline studio seems like an excellent solution and much more organized than my jumble in the plastic bin 🙂
4.  Next you need a spot for your folded up fabrics and you trims, zippers, etc.  In the photo below you see all my folded up fabrics on the green book shelf and below are a bunch containers holding trims, zippers, webbing, felt, buttons, and others odds and ends.  I have started being more selective about trims and gotten rid of a bunch of old hand me down things that I was keeping for nostalgia (i'm talking vintage 70s stuff that I just couldn't make work).  So, if those containers start over flowing again, I know it's time to purge!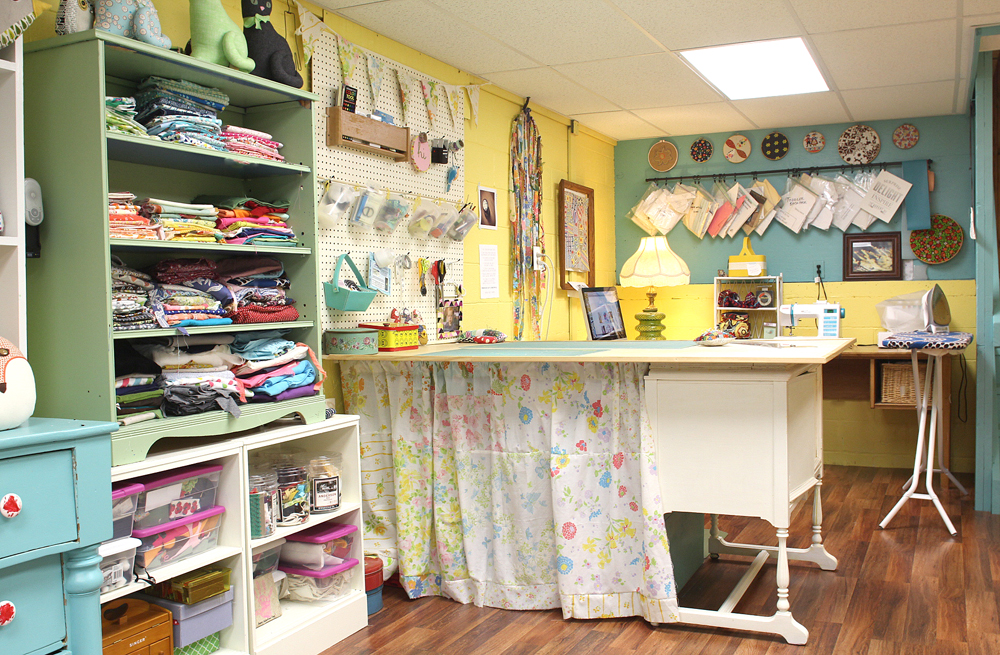 Honestly, the fabrics have never been a big problem for me.  Keeping them nicely folded, yes, but this shelf is plenty big enough for me.  I am not someone who hoards and buys tons of fabric.  If that is one of your issues (and you are not alone because TONS of sewers love having yards and yards of fabric, you might have to get extreme on your organizing like this or this!  Or, if you have a small space, this would work great.
5.  I'm not sure if this is considered being organized but it is a super helpful feature of your sewing room set up that i feel like adds to organization.  You know how your kitchen is supposed be set up in a triangle?  The stove, fridge and sink?  Most kitchens are set up this way basically.  It helps with your cooking work flow!  Well, I think the same is true with your sewing room except with your machine, ironing board and cutting table.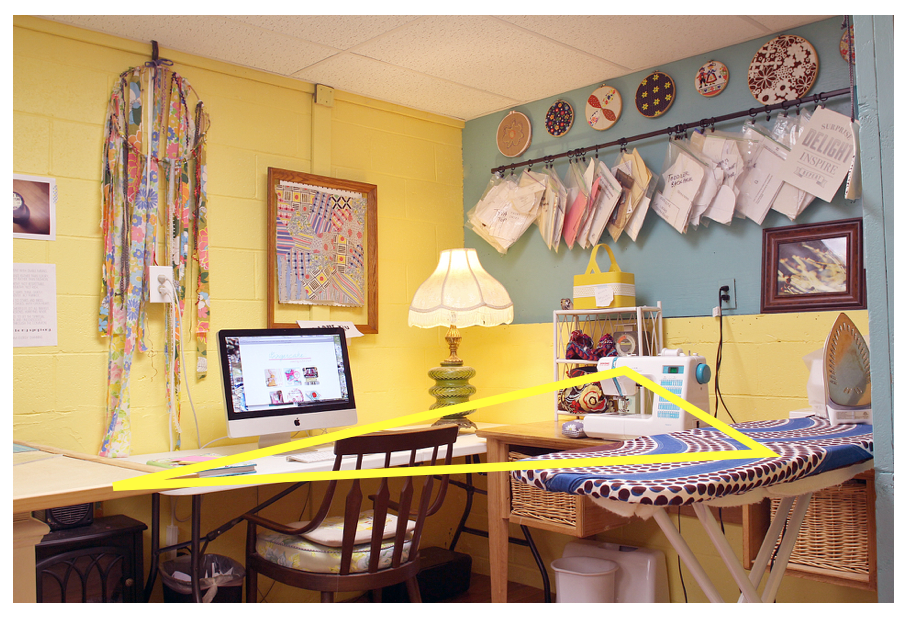 This keeps things tidy and work more efficient since you move around in the triangle to do your sewing work.  Try it!  It will help for sure!
I have never advised about organizing before since I am only a moderately organized person!  But, I have been sewing a long time and my sewing supplies stay in pretty good shape!  I think my goal is to able to find things that I need, see the materials i want to use, and have plenty of space to create.  So, I hope this tips may have helped you a bit at least!
What sewing organization tips do you have?  Give your best advice!