I have to admit this duffle bag sewing pattern is one of my very favorites. Why? Because every time I go on vacation, I bring out my duffel and pack it up! DUFFLE BAG = VACATION! Do you have a pretty bag made from your favorite fabrics available to pack for your favorite road tip? If not, now is your chance to sew up something pretty, practical and simple!
Click on any photo below to take you to the SHOP to purchase the Pattern and learn more details.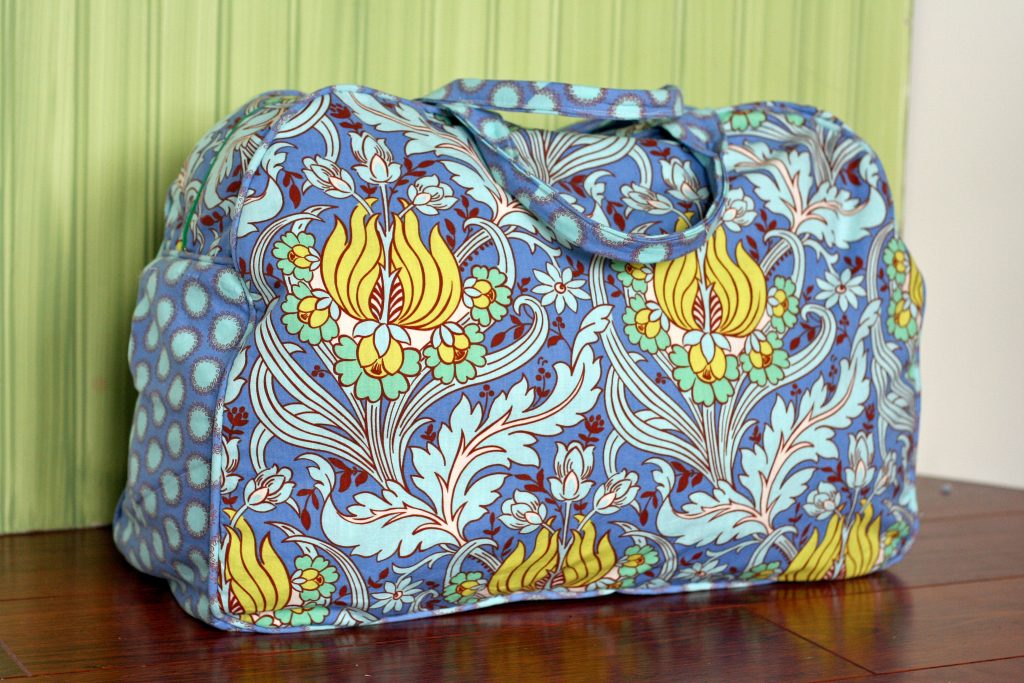 The duffle bag is large enough to hold lots of clothes but not so huge that it is unmanageable. I can usually pack about week at the beach (that's shorts, tee shirts and bathing suits!) or a long 4 day weekend of winter clothes in my bags. If you are a big packer, you might want to make 2! The size of the adult sized duffle is 20″ wide x 14 1/2″ tall x 7 1/2″ deep. It requires about 1.5 yards of fabric, optional interfacing, and cotton batting for the base. It also calls for a 22"- 24" zipper.
I obviously LOVE a big bold print on my bags, but check out my friend Vanessa's Make Your Getaway Duffles that are not quite as colorful but so gorgeous…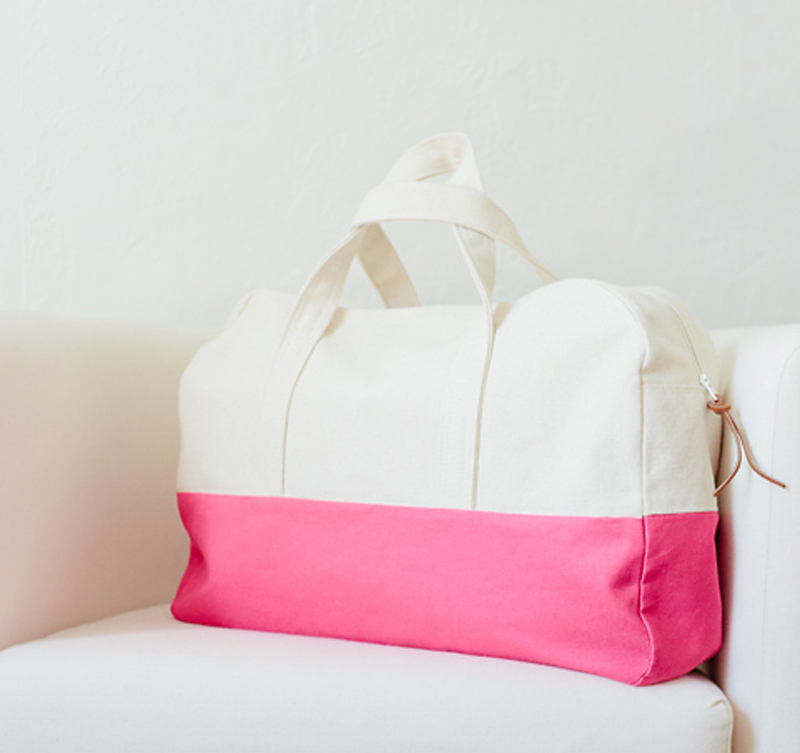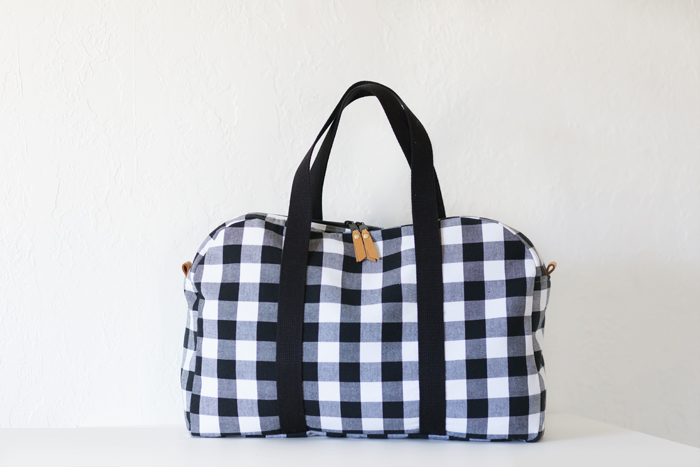 The duffle comes in adult and kids size. This smaller size is perfect for smaller hands and clothes. It measures 18″ wide x 12 1/2″ tall x 5″ deep. This bag only requires about 1 yard total of cotton fabric 🙂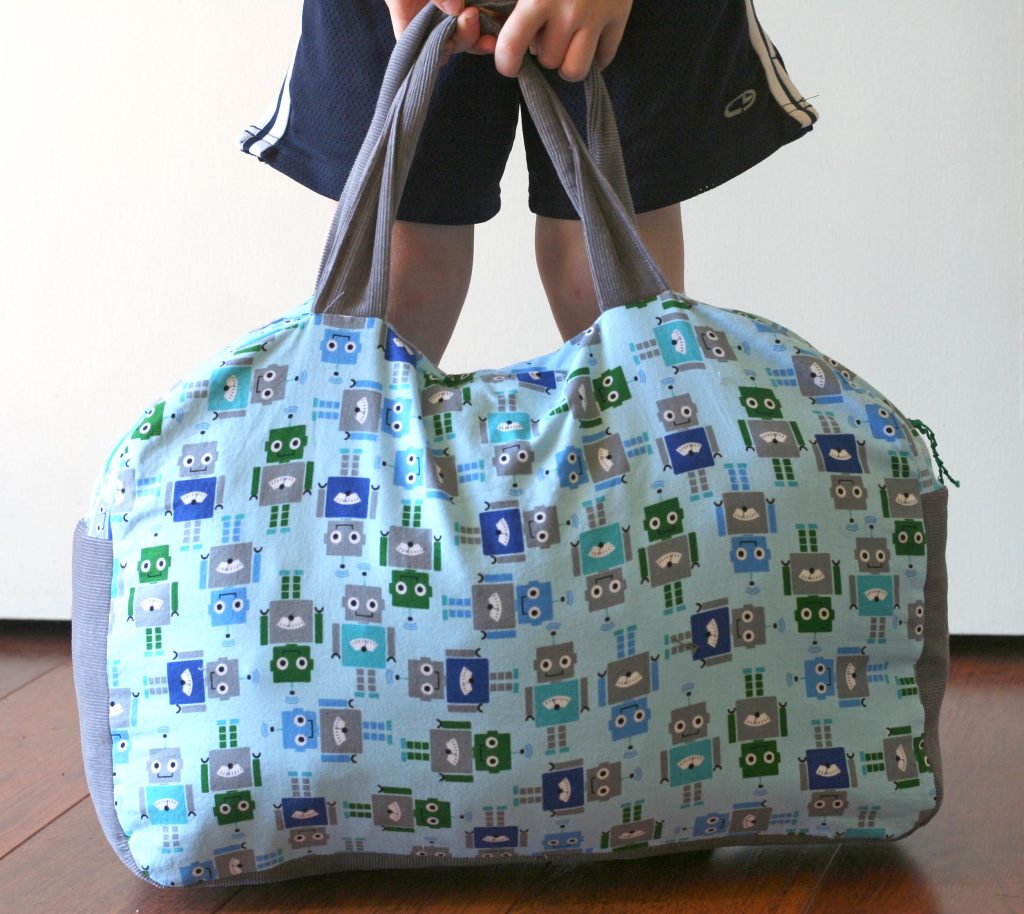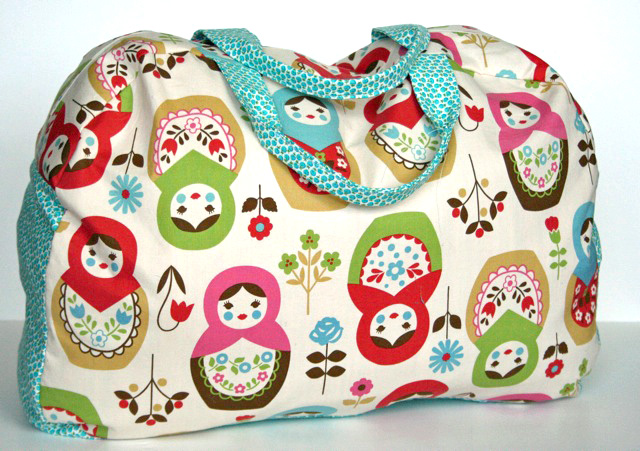 Over on my youtube channel I shared with you how I create new yardage from my fabric scraps and one of my favorite places to use this new yardage is on my kids size duffle bags! Below is the video and then you can see the Make Your Getaway Duffles I create from the scrap yardage…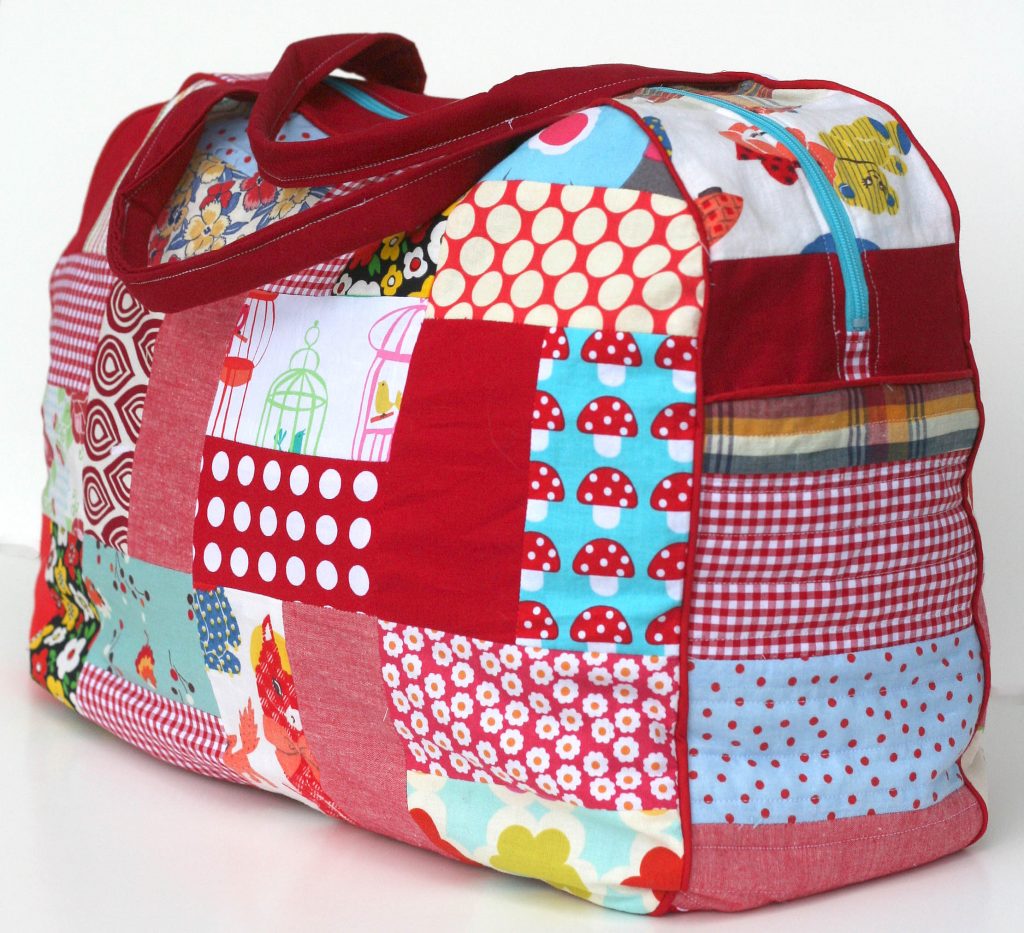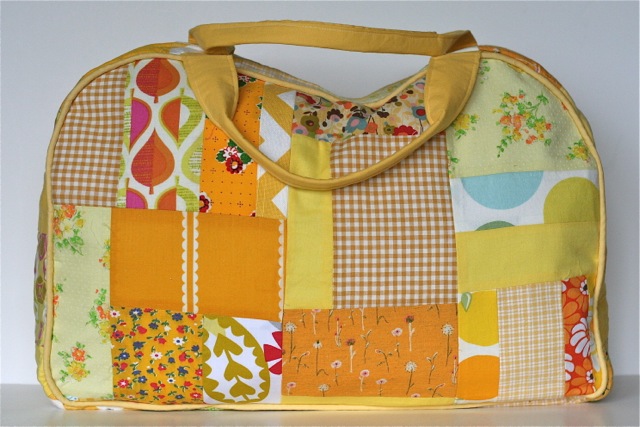 You can also see in those 2 bags above that I "framed" the body of the bag by adding piping to the exterior pieces. That is a great way to add extra interest to your bag! I used store purchased piping and followed the instructions to sew the piping onto the fabric 🙂
I made my oldest daughter a duffle bag to take with her on her first trip alone to see my parents in Atlanta. On this bag I added the wrap around handles, the front pocket, and a shoulder strap.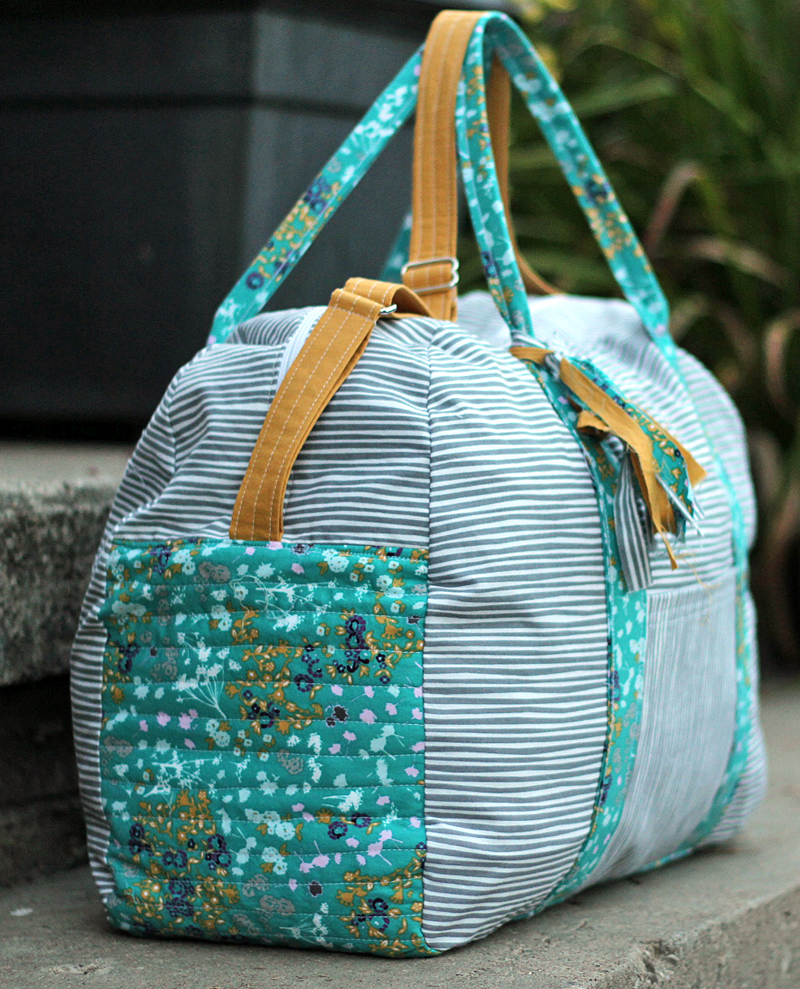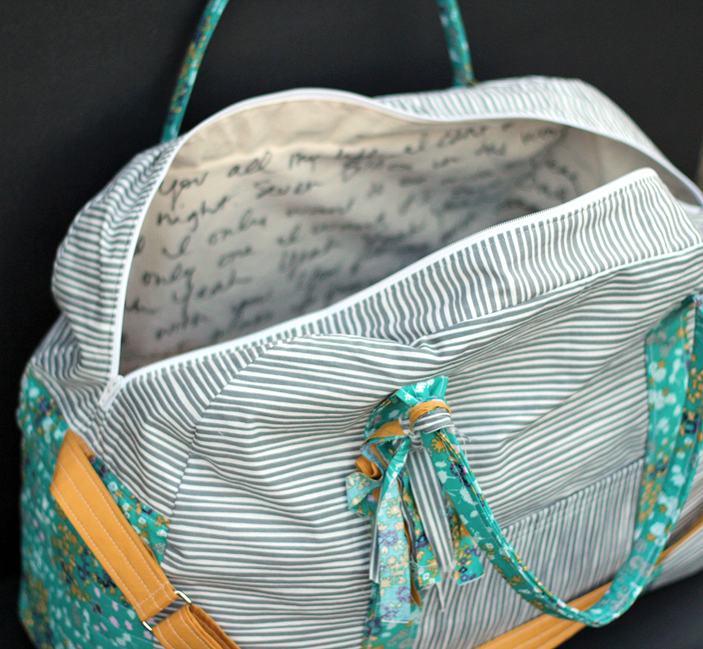 This version of the bag became very popular on social media! So I made a free tutorial to show how to add the straps, pocket and should strap s an addition to the Duffel Bag Sewing Pattern. You can find that blog post here or by clicking on the photo below…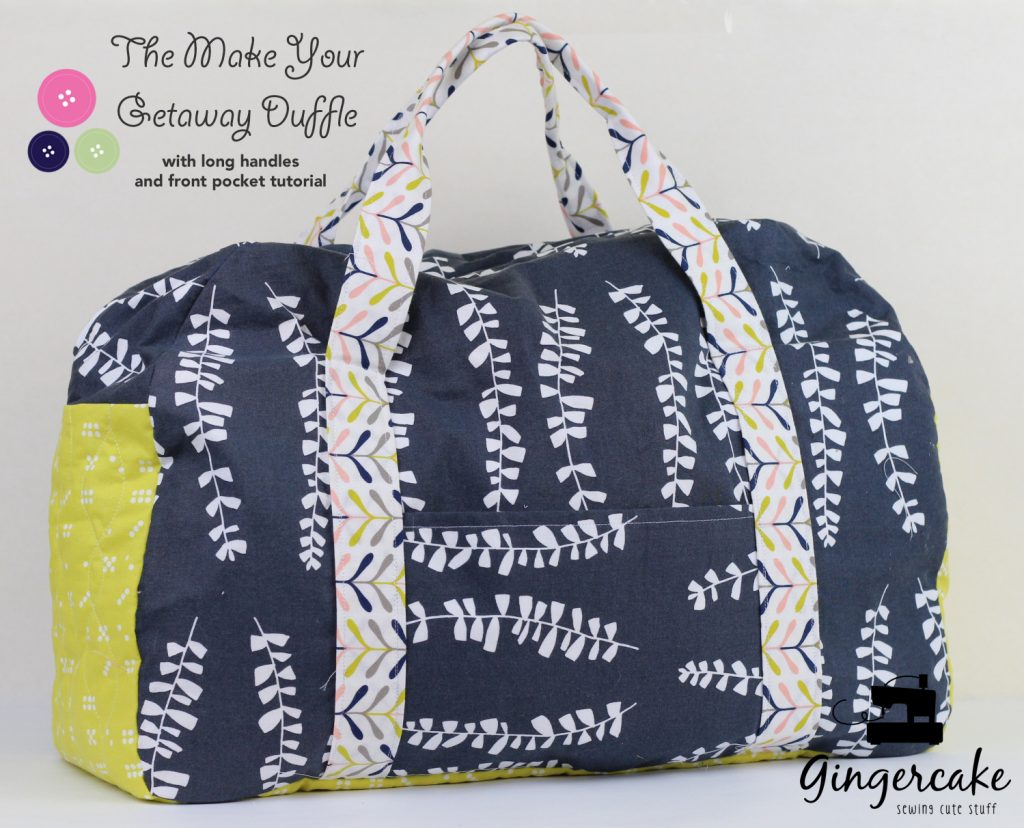 Now, I usually make the long straps version when i am doing the adult size and that front pocket is very handy for extra packing. Here is a bag I made for a friend when she was releasing her new fabric line for Art Gallery. This version shows you a less busy fabric for sure 🙂 . It's also fun to add a scrappy tassel too…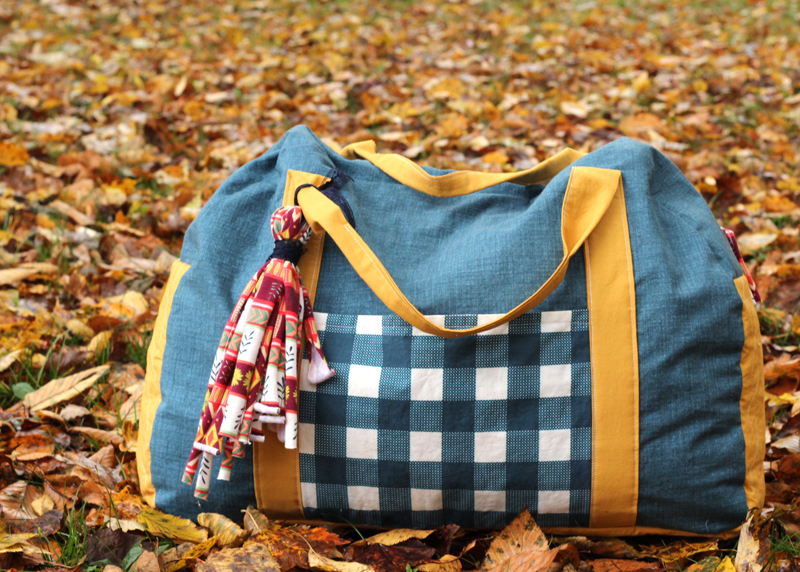 The lining of the Make Your Getaway Duffle Bag is just a simple cotton. I usually try to use canvas or duck cloth to give the duffle some extra weight. Pockets can easily be added to the lining. In the pattern, I give optional pocket instructions if you like pockets in your travel bags.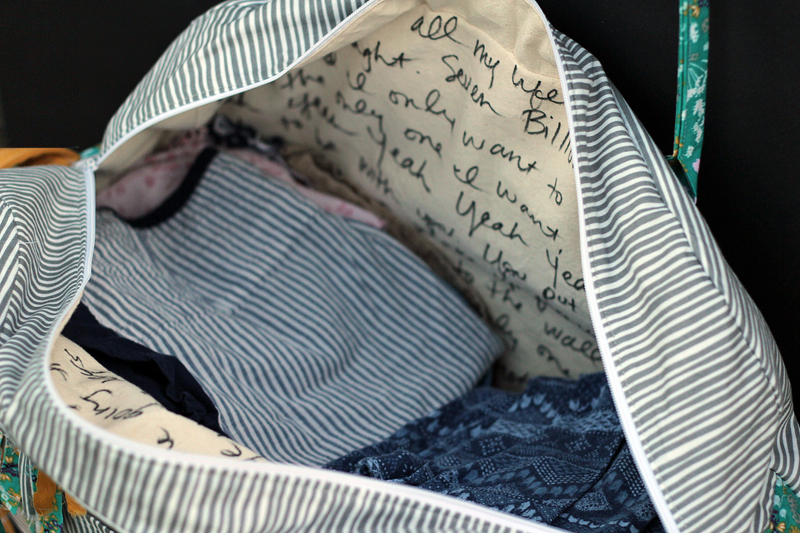 Below are some of YOUR duffle bags! You can share your version with me using the #gingercakepatterns or #makeyourgetawayduffle on instagram, facebook or email me!
I have to admit that it is so thrilling and gratifying seeing people make my sewing patterns into their own unique creations. Aren't those amazing?? Let me know your thoughts and questions below! You can purchase the Make Your Getaway Duffle bag in my PDF pattern shop. Happy sewing!