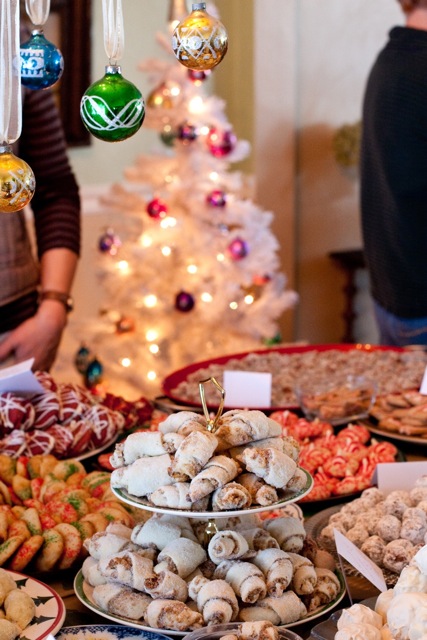 SO MANY COOKIES!  To follow up on this post, all went well.  I am so excited to share here some beautiful pictures taken by my photographer sister in Law Jennifer Stein.
To begin, I was pretty good at preparation this year.  I sent out the invites on time, cleaned the house, and asked some very helpful friends to bring snacks.  Below is the table with just my cookies on it and then most of the cookies as friends began to arrive…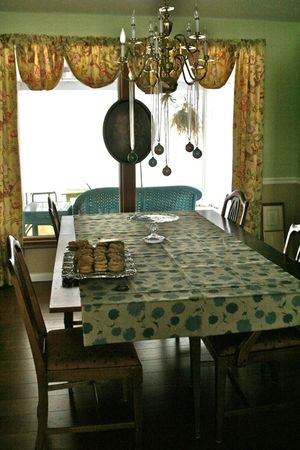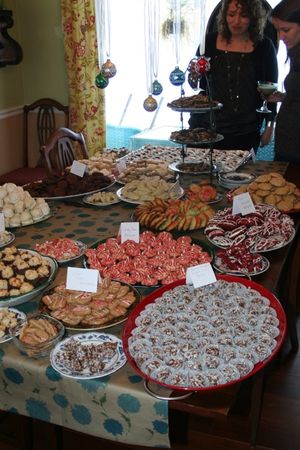 and then Jenny took this one with ALL the cookies!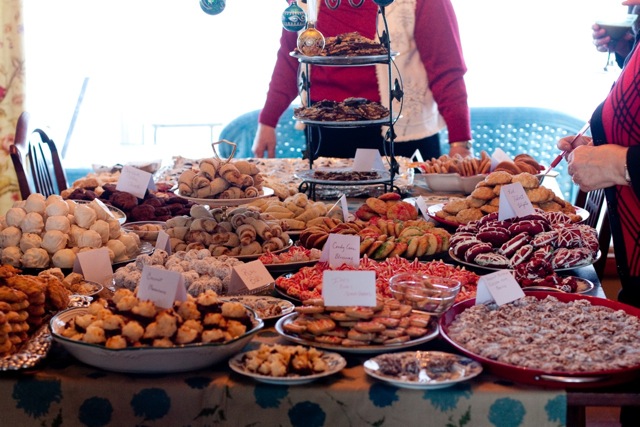 Instead of baking my friend Wendi brought peppermint martinis.  They were so pretty!  And delicious…
After tasting all the cookies and doing lots of chit chat, everyone voted.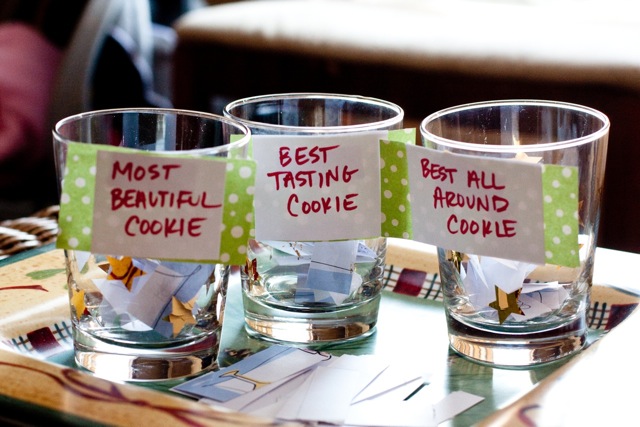 For prizes this year I made gingerbread cookie ornaments.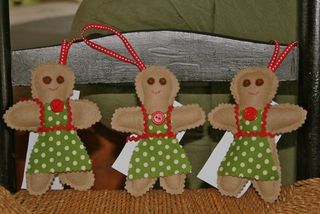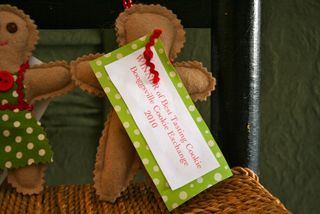 These were one of those projects you felt all excited about while making and then it just turns out not so cute.  Oh well.  I just couldn't get a good idea going and then I did them at the last minute and they were only so so.  Let's just stop looking at those and move on to the winners…
MOST BEAUTIFUL COOKIE>>> Jenny's Candy Cane Blossoms!  This was her first year winning.  Check out her sweet pictures of making these cookies with her girls here.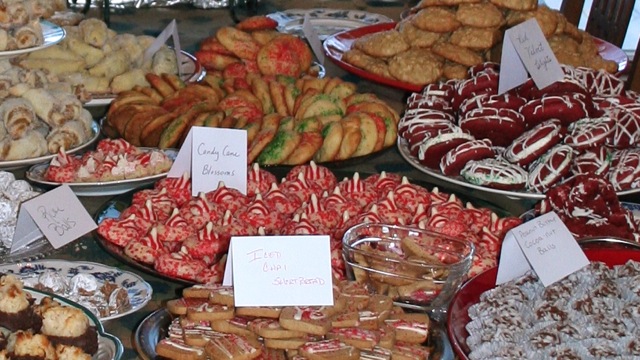 BEST TASTING COOKIE!  Oreo Truffles.  Delicious!  Again, Jenny took this picture.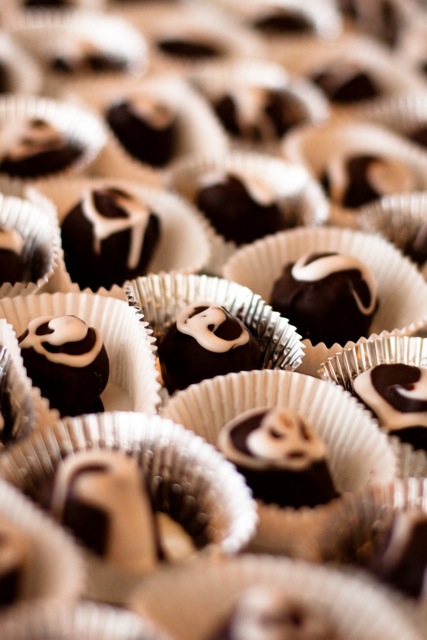 And for the BEST ALL AROUND COOKIE WAS… Red Velvet Cookies (picture by Jenny!)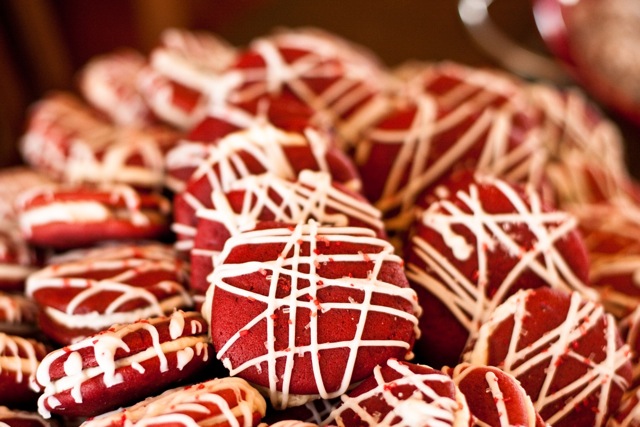 A word about these cookies and their maker, Michelle.  This girl has won SEVEN years on a row at the cookie party. Jennie captured her as she celebrated her victory, AGAIN!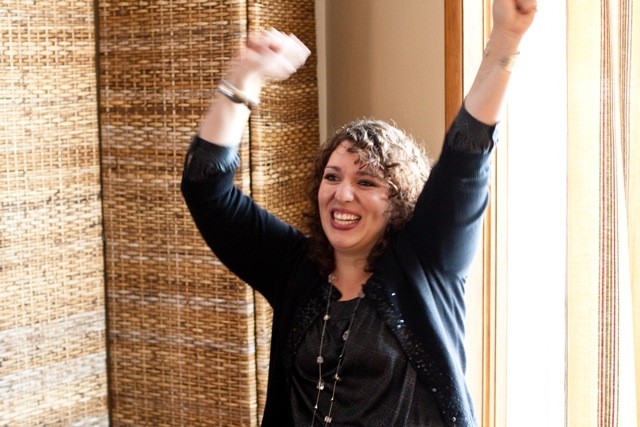 Way to go Shelly!  You are one talented baker.  We tease her that she is a prize hog but everyone waits to see what she will make and it never disappoints.  She used the recipe from Joythebaker blog this year.  How could we not vote for that beautiful and delicious cookie?   She says the key is a chocolate drizzle!
It was a fun party.  I have to admit I am not actually much of a cookie maker myself.  I made Orange Dream Cookies which were like making chocolate chip cookies except that you use white chocolate chips instead of chocolate, orange extract instead of vanilla, and you add some orange zest.  So easy!  I am always so impressed with my friends who make these wonderful and complicated cookies.
Here are a few more pictures …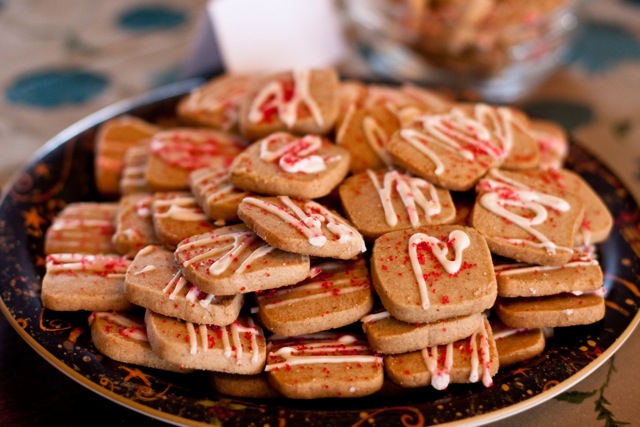 Above is a chai tea shortcake and photo by Jenny!
One more picture by Jenny of decorations above the dining room table. 
Whew!  Another cookie party done.  Now I have to figure out who I will share all the cookies with!  Honestly, these 2 and their mama have already made a pretty good dent…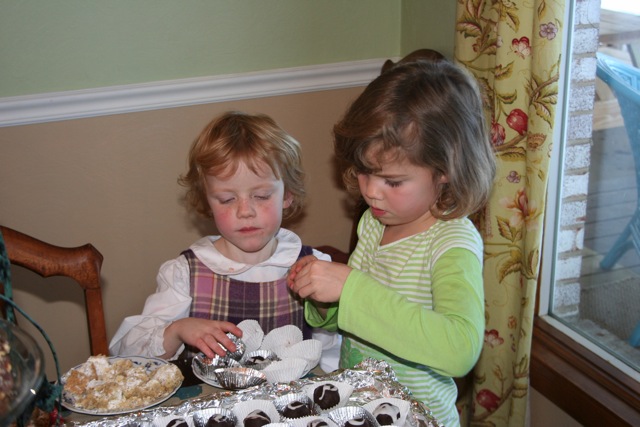 Hope you all are having fun getting ready for Christmas!  Do you have any cookie suggestions for next year?   Would it be wrong for me to win at my own party?  I am thinking yes…