A few months ago I purchase Happy Homemade Sew Chic Kids by Ruriko Yamada since I heard that it had been released in English.  I love the simple style and classic look of the kids clothes in this book.  Bonus- the sizing is 2 through 8 which covers most of my children.
I first made a pair of flared shorts in flannel for my 9 year old (the sizes are not hard to adjust) and they are nice but not really worth sharing on the blog since they are plain and already in the laundry bin.  But, over the weekend I made this cute pull-over parka for Anne (8 year old) and it is a big hit.  
I used a cotton lawn from the Little Lisette line at JoAnns.  It was a little slippery but really pretty.  I have more left over so you may see it again soon!  The drape is really nice and the feel of the cotton is great.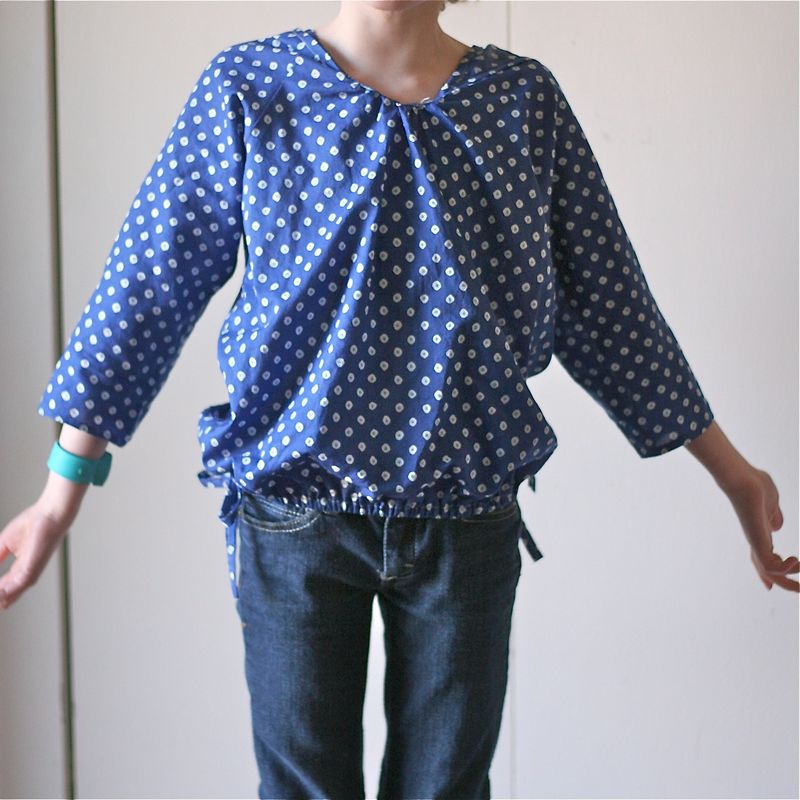 I made the bottom hem a casing for 1/4'' elastic and made faux ties on either sides.  It was a nice touch to make it a little more grown up.  
here are the versions from the book which ties in the front…
The hood is really cute and although it is small for Anne to use functionally, she says "that's ok-  it's really just for looks anyway Mom."   8 years old and she already knows that clothes are not always totally functional!
I admit that I struggled a bit to figure out how to make the neckline.  I am not a big maker of clothes so the lack of instructions in the book made it a little challenging for me.  I didn't mind figuring it out though and I really liked the result!  I wouldn't recommend the book to beginners because of the bare bones style of instructions but I really liked that since it made the project seem quicker to me.
A success!  Hopefully I will be able to sew more fun projects now that my big commitment tasks of the last several months are finished.  Have you tried this book?  What other patterns are worth making?