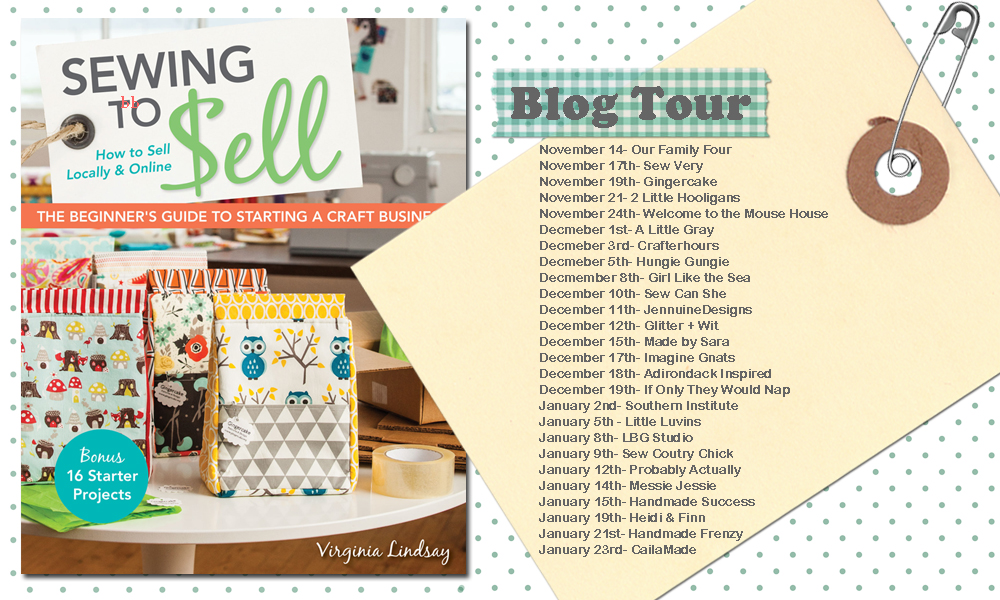 I am so pleased to present the entire list of bloggers who are reviewing Sewing to Sell!   I am crazy excited to see what they all will say about the book and what wonderful extra information WE are going to learn from reading their blog posts on this topic.  I mean WE because even though I wrote this book, and I learned so much in the process, this is conversation that will continue and evolve as long as online selling and craft shows exist, right?
So far,  Erin of Our Family Four made adorable pin cushions from the book to sell in her shop but also brought up the importance of connecting with other sellers to make your own shop better.  That's not in the book!  But it is such great advice!  It can be hard to reach out- especially when you are just beginning and you feel shy about your handmade items.   Reach out to groups on Facebook, etsy teams, and see if there is another local person who is selling and maybe ask them to meet you for coffee.  I truly believe that people want to help each other.
Veronica of SewVery made items for a fundraising event.  I cover this topic only briefly in the book but it is a great way to help out in your area and to test the waters for selling your own handmade items.  She made cute set of zippered pouches.  We will have to check back in with her to see if her suggested price (using the book guidelines) for the bidding was right.
I would love to hear your input along the way too.  Do you have something you would love to share with others who are beginning their handmade business?  What has making and selling handmade done to help your life?  I would love to hear from you!  You can comment here or send me an email!  Even better, write a blog post about your thoughts and I will link up to you!  I'll be sharing lots of stuff to help all of us entrepeneurs the next couple of months, so join in the conversation.
Last- through Goodreads, I am giving away FIVE copies of my book.  Use these links below to enter…