Hello friends.  I realize it's been a long time since I shared things I sew for my family here. As many bloggers have noted, with social media, sometimes blog posts about simple things sewn never get blogged about anymore.  I have every intention of sharing these simple projects on my blog, but then the task of perfect photography and lack of time always gets in my way.  So, today, I am going to play catch-up (with iphone photos!) and share the things I made over the last 6 weeks or so.  These things were practical and fun- the whole reason that I began sewing in the first place!  Nothing too widly original or especially well done either, just fun sewing projects.
First, I made a couple dresses for my little peanut.  The one on the left is the geranium dress and the one on the right is the Sally Dress.  I have made both of these before and still love them.  Although, I will admit my machine hates sewing button holes right nowso the Geranium dress was sorta a pain for that reason alone.
 Above is a detail of the bottom of the geranium dress and Marion's fabulous new turquoise Mocs.  I used corduroy (from Joanns) for the dress and embroidered these little stitches by hand to add some extra interest.  The mocs are the lil papoose moccasins by Peek a boo pattern shop.  I have made them before and they are really fun.  Not super practical for this age- but fun, easy, and they really make an outfit super adorable!
And above is another shot of the Sally Dress.  I love how she is showing us her displeasure with photo taking in this picture.  2 year olds are hilarious in a million ways.  This fabric was found at the thrift store the day before I made it and then she wore it to church the next day.  It's really sweet how all the older ladies at church fawn over her when I make these kinds of dresses.  It must bring back many happy memories of dress making for their own kids.  It also motivates me to bring her to church in handmade!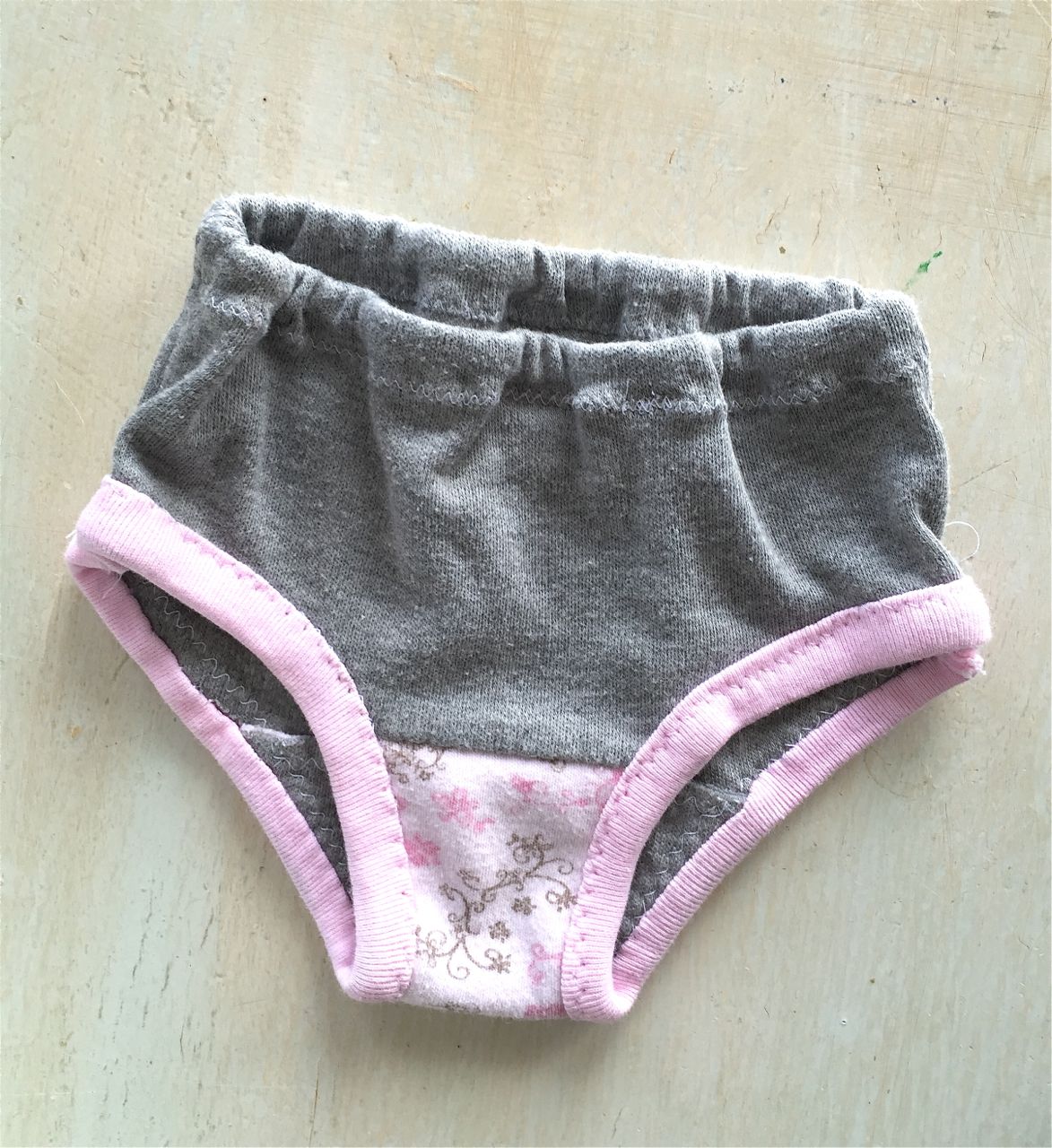 I have been potty training at my house over the last month.  It has been a challenge but worth it to stop using diapers.  I remembered that I had a cute underwear pattern from the Sew Fab Bundle a few seasons ago and decided to try it out.  After a few mistakes on the first one, I made 10 of these quickly and they are fabulous!  The pattern is by Red Kitchen Katie and its adorable.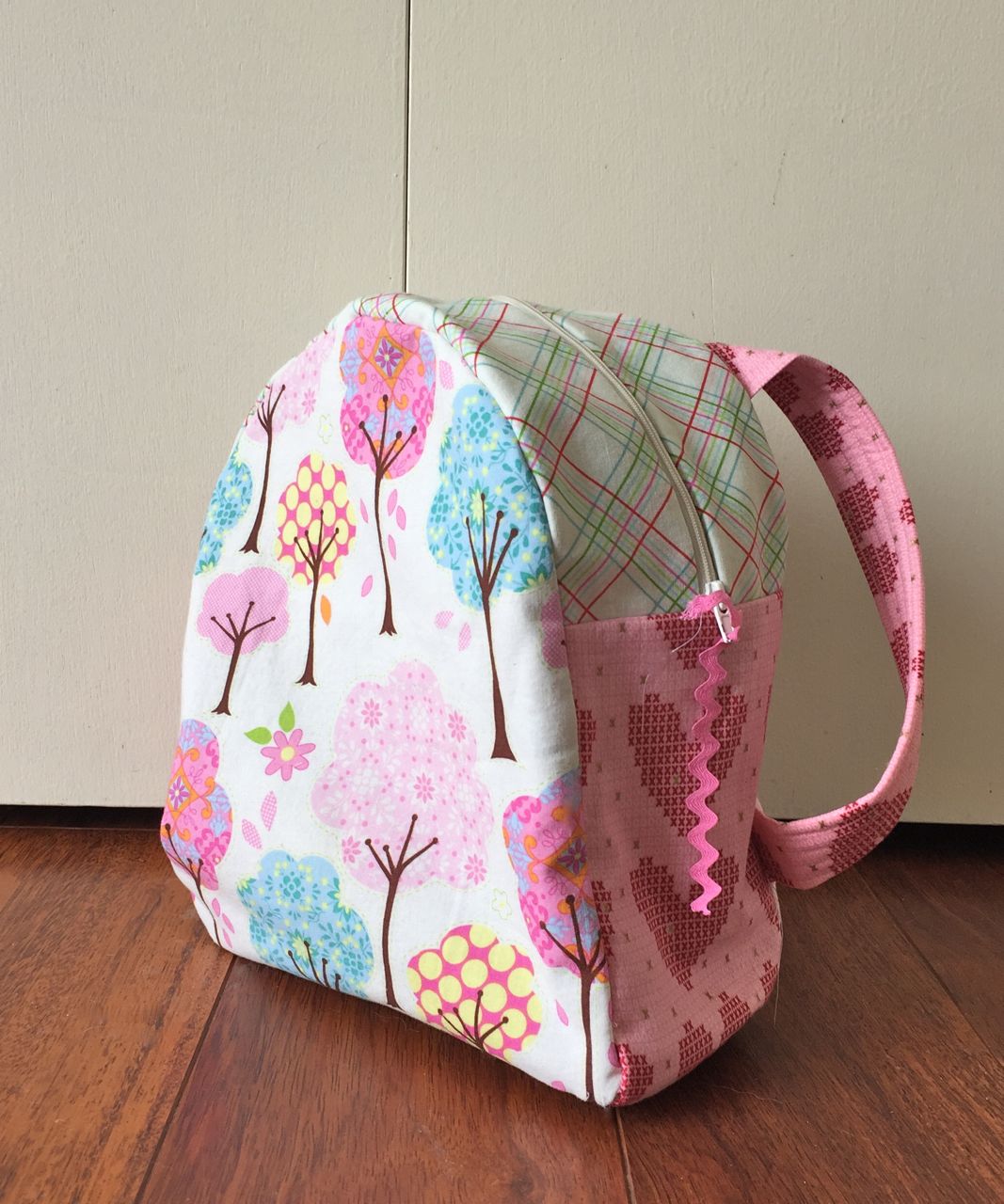 We were having a lot of fights in the morning about back packs- the culprit was again the 2 year who was upset everytime the big kids packed up and got ready to leave for school.  She wanted those back packs for herself-  I was hearing  A LOT of "NO!  Mines!" being thrown around.  Easy solution was making this quick Made-by-Rae toddler backpack.  Now known as "mines pack pack".  Problem SOLVED.
Above is a quick Kindle Cover using the last of my eine kleine designs from Liz Ablashi.  The kindle is really my 9 year olds but I use it all the time too!  I just made up this pattern from looking at ideas on Pinterest.  Very Simple!   You can find very similar free tutorials on pinterest if you look up "kindle cover sewing tutorial".  Now the kindle is much easier to find and the cover fits it like a glove.
My last sewing project to share wasn't really sewing but instead a decor project inspired by sewing!  My husband made some kitchen benches for us and we needed new artwork above the table.  Living in rural Pennsylvania, I have seen several fabulous traditional barn quilts (in fact you can go on a Barn Quilt Trail by car!) and this simple artwork is my take on that tradition.  I used the wonky star quilt block and adjusted it a little.  It was so so fun to make and my kids were really excited about it too.   My block is only 32" x 32" and here is a PDF for you to print out if you feel so inspired.  If you use a 32" square piece of wood like I did, then each block in the grid will equal 4".  You could adjust this size and keep is divisible by 8 for easy translation- like a 16" block would make the grid pieces on 2" square.  Or a 40" piece of wood would make it 5" square grid pieces.
So there you have it!  Things I have been making.  What about you?  What have you made recently?