Ornaments!  I admit I have MANY- probably way too many!  Of course, not all are handmade but quite a few are made by yours truly treasures.  And you all know me- nothing complicated here! I just made a video over on my youtube channel to make 4 cute fabric ornaments.  Visit HERE or click on the image below to watch…
The first one I described is this cute fabric tree with a cinnamon stick trunk.  It smells amazing!  Sadly the smell does fade, so if you give these away as gifts, keep them in a ziplock bag until you are ready to gift them.  To make (the video shows this in detail!) simply sew the 2 fabric tree pieces right sides together.  Leave an opening at the base for turning and for inserting the cinnamon stick.  Turn right side out, stuff with fiber fill, insert the stick, and close up the opening by hand.  You can download the pattern piece below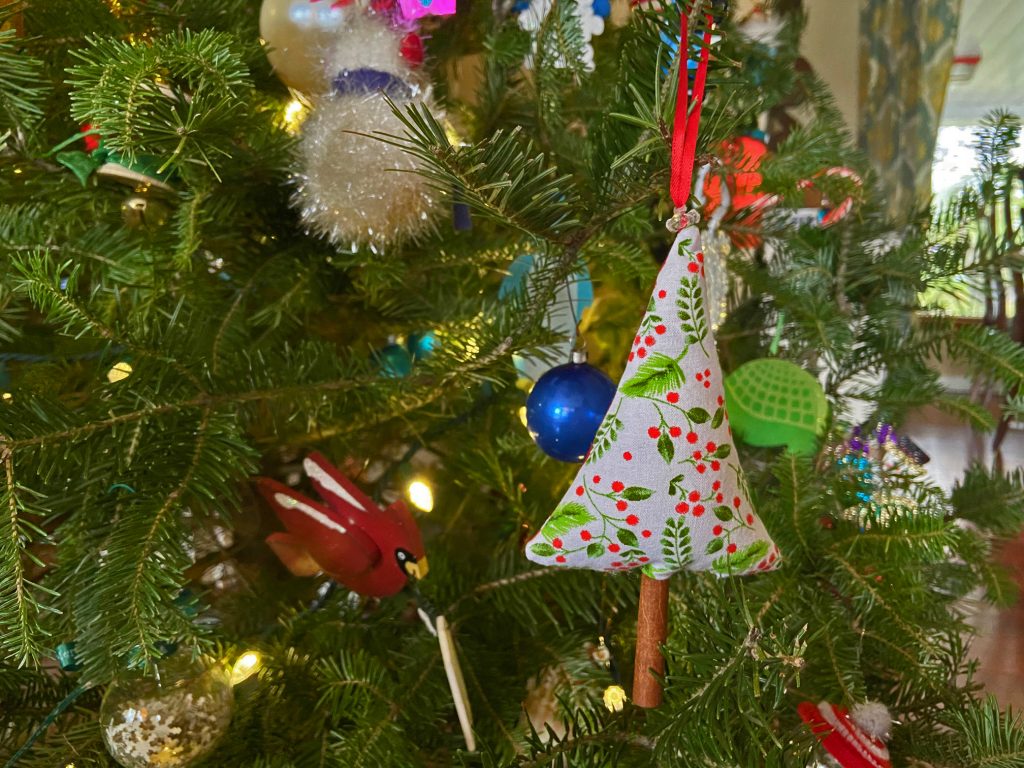 Next, I made this fabric ribbon tree ornament inspired by Crafty Staci's ribbon candy ornament.  I was trying to make her ornament but couldn't quite get it right.  As you may have discovered in your crafting life, sometimes new good things come from what might seem like failure on something else!  So this tree version was born.  Please visit Staci's version too and make both!
In the video, I tell you the size to cut your fabric (2" x 18") and how to assemble the "ribbon". Here you can find the template to show you where to insert your needle.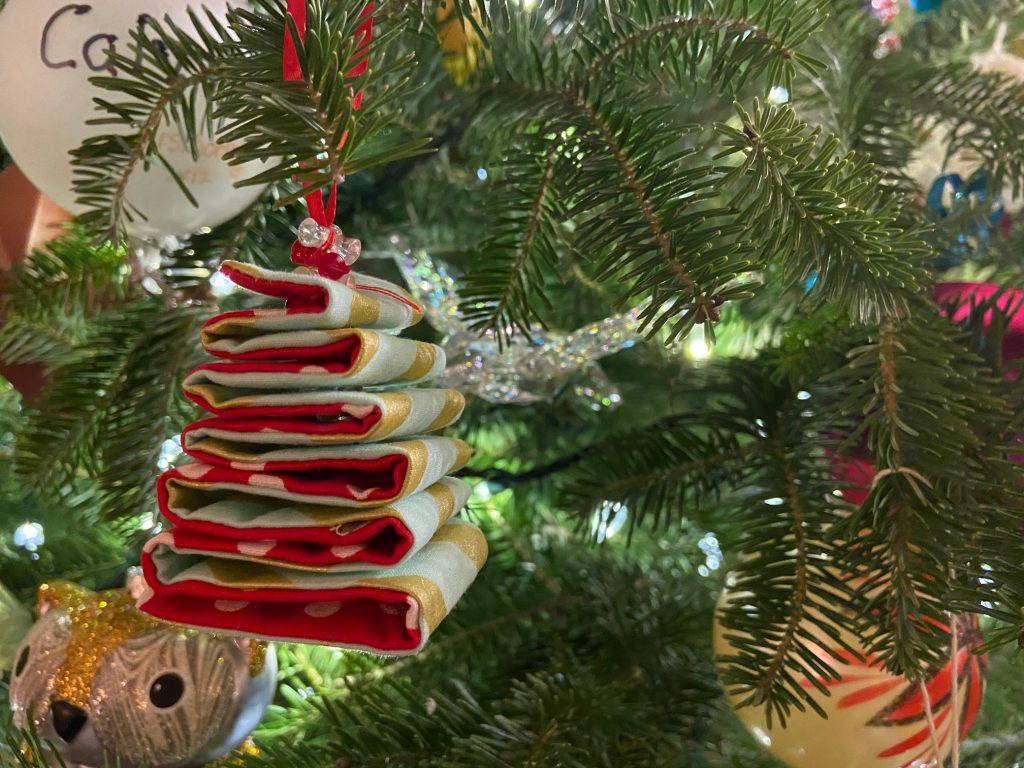 Want to make more like this?
I have a great pattern to take your skills to the next level!
The fabric strawberry has been on my tree for years!  I made a version of it when I first started sewing about 15 years ago.  They are so cute!  But I can't find the original pattern and so I made up this one.  Fabric strawberries have been around for a long time so I cannot take original credit here either :). Use the pattern below and watch the video tutorial for details!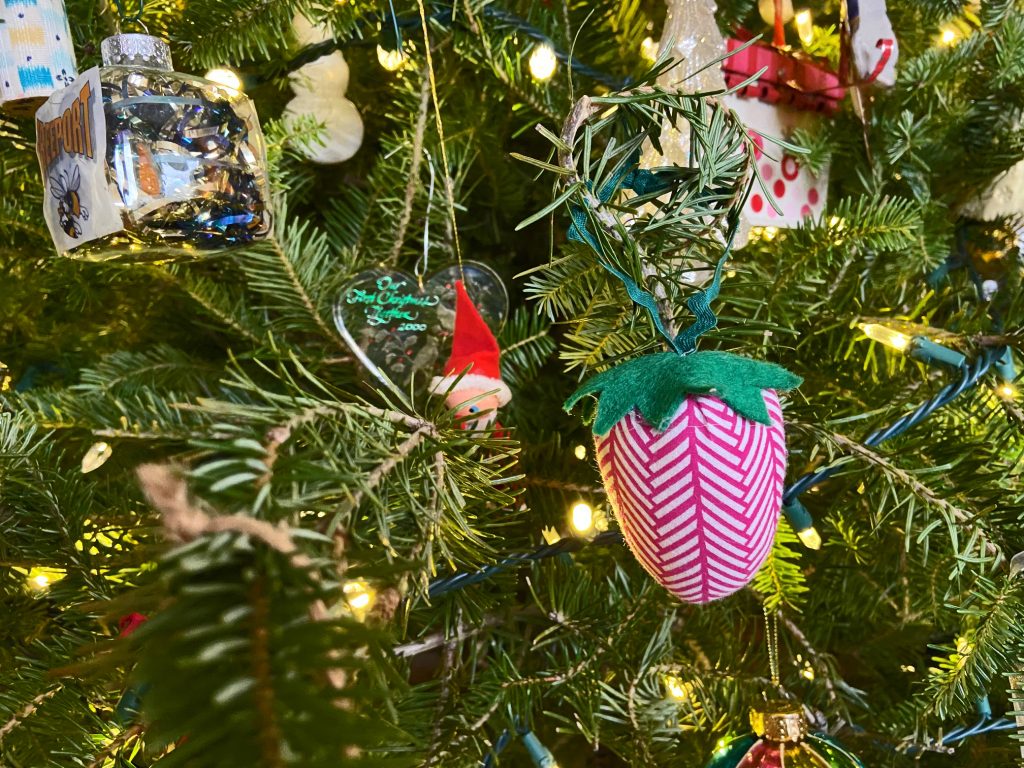 Last, is this cute little quilted scrappy circle ornament.  The circle is about 4.5" wide and high.  You can make yours larger or smaller!  Simply make your scrappy piece and then layer a piece of cotton batting behind it.  Then quilt it!  I like the look of the zig zag eldge and frayed fabric but you could do something more finished looking like binding.  Watch the video for more details!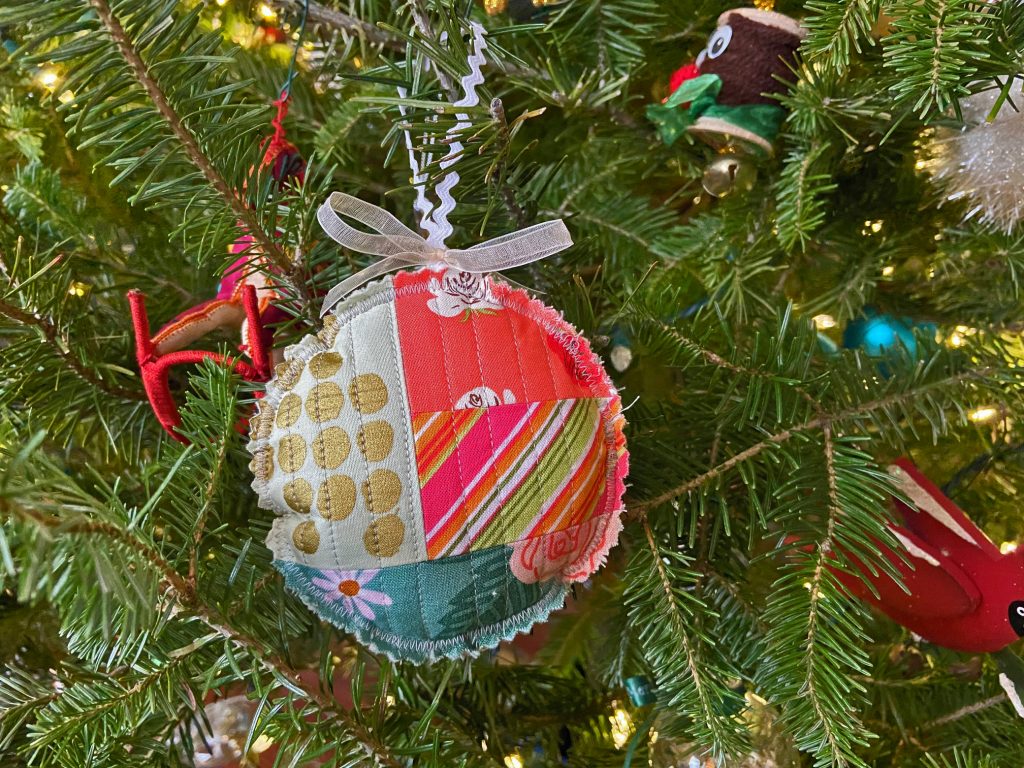 You can download the PATTERN PIECES HERE~