We just got back from the beach last night.  I am happy to be home- back to our lazy summer routine and relaxed schedule.  Oh wait- school starts the day after tomorrow!!!!  I feel happy and sad about it like most mom's do- more time to yourself but back to the rush of school, preschool, after school sports, etc.  No more swinging on the back porch and playing uno all afternoon.
I made the girls a couple of last minute summery/ beachy items before I left.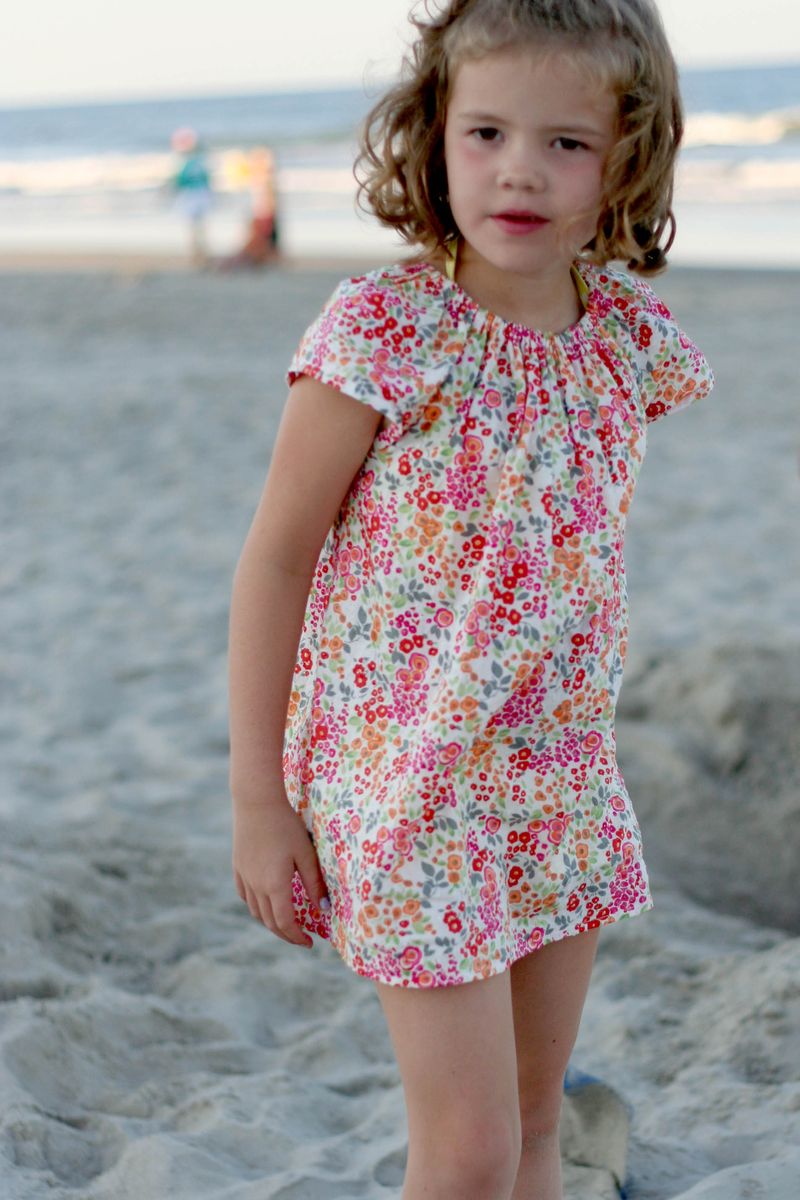 I used the indie tutes peasant blouse tutorial.  The sleeves are left open and shortened almost to the arm hole seam.  I added a few inches in length to make it a bathing suit cover up.  I also used a fabric from the garment fabric section at Joanns.  Remember my pledge not to use my quilting cottons for clothing anymore?  This type of cotton just flows so much better.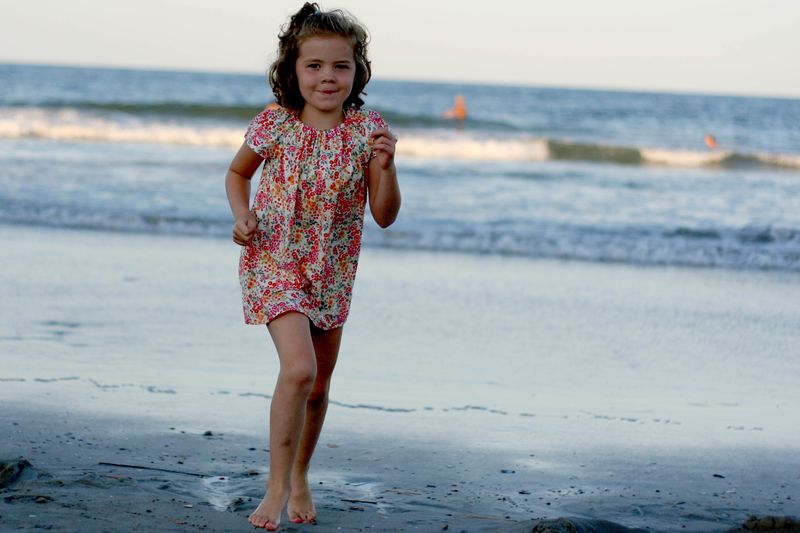 The girls knew this was a "photo shoot".  I asked Elsie to go down toward the water and run toward me.  She makes that cute smile and always looks so well arranged.  Here is the picture i got when i asked Anne to do the same thing…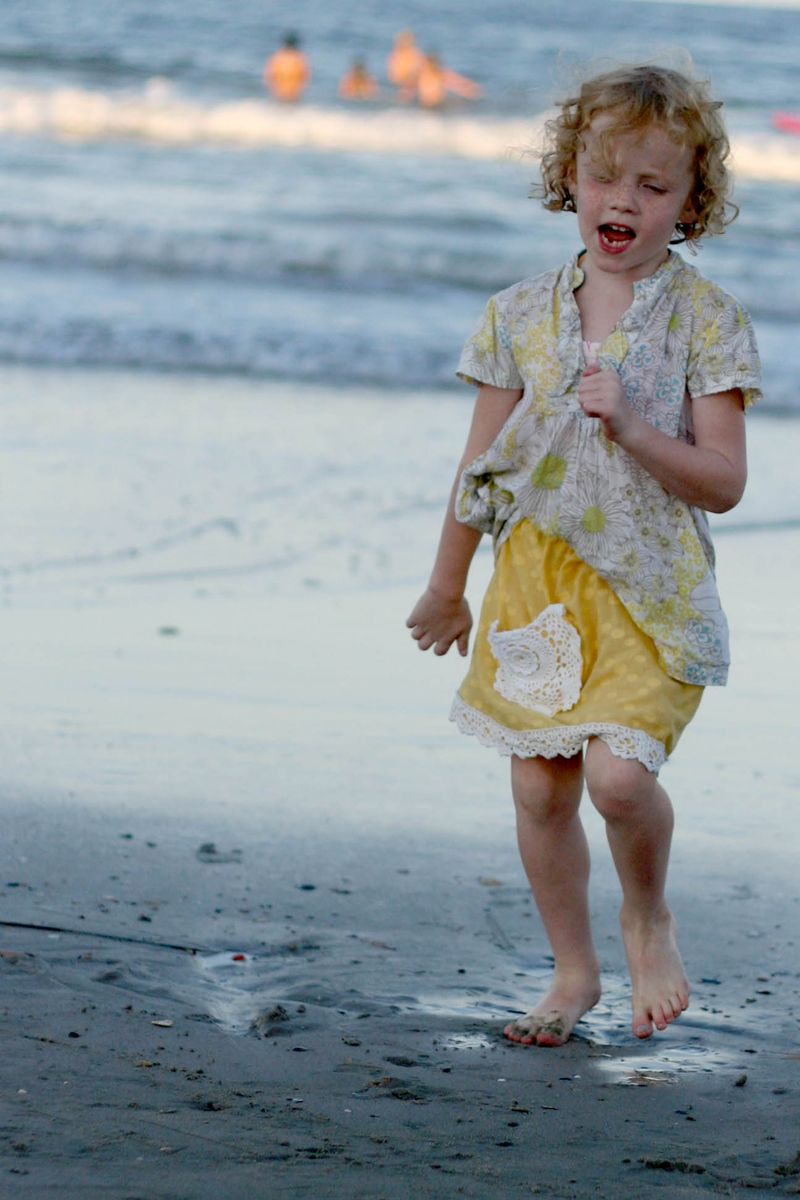 She's hilarious.  I just kinda winged this skirt with fabric that i had left over from this shirt.  I was inspired though by MADE's cute skirt.  I Love how the doily pocket and crocheted lace trim look together on the yellow.  The shirt is just a cute hand me down from Old Navy!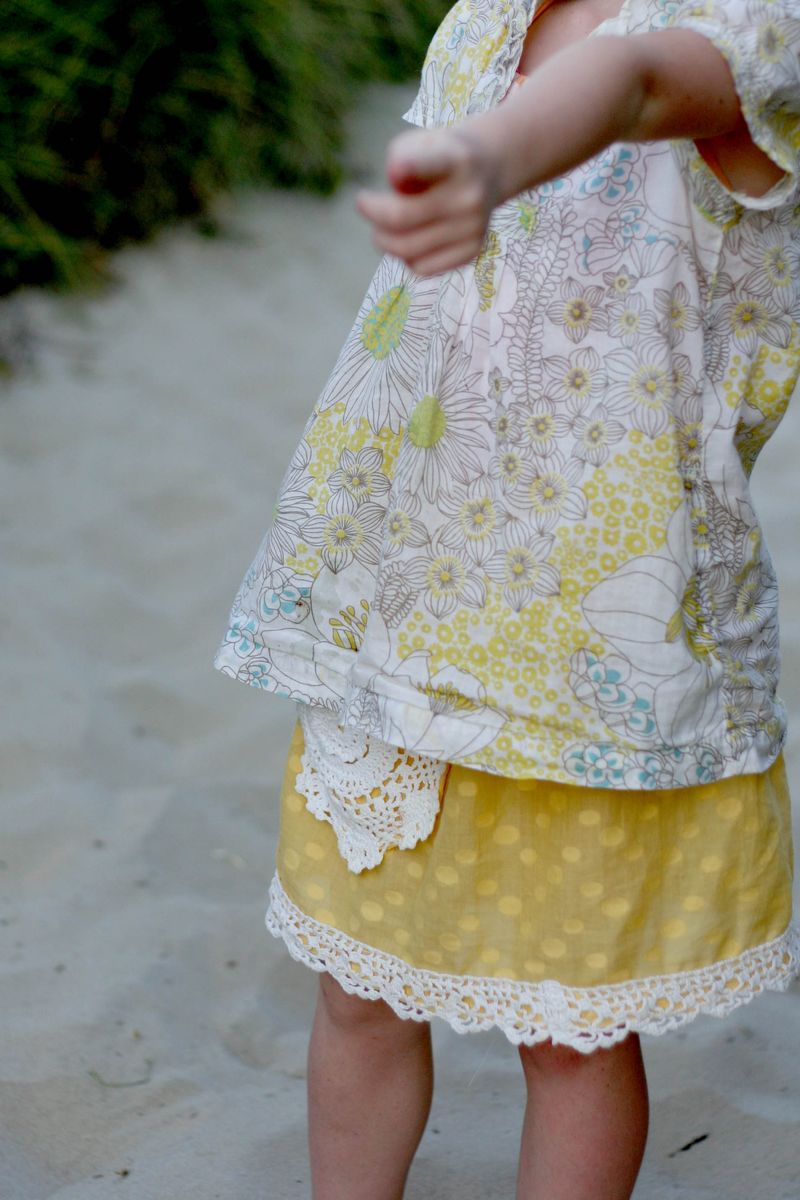 Here they are together.  As soon as this picture was over they tore off these clothes (bathing suits were underneath!), and trampled them into the sand on their way down to the water.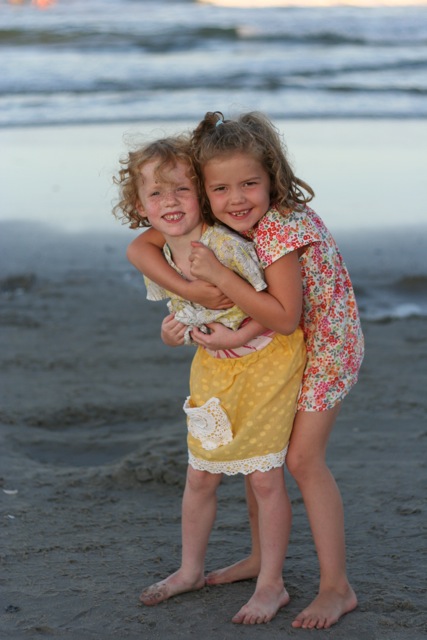 We had a great time at the beach.  We went to the Outer Banks of North Carolina and the week was full of lazy beachy days, playing with cousins, reading, and some nature walks mixed in.  Travis and I took Anne on a short walk early one morning.

The light was so beautiful and she was happy to be alone with both of us.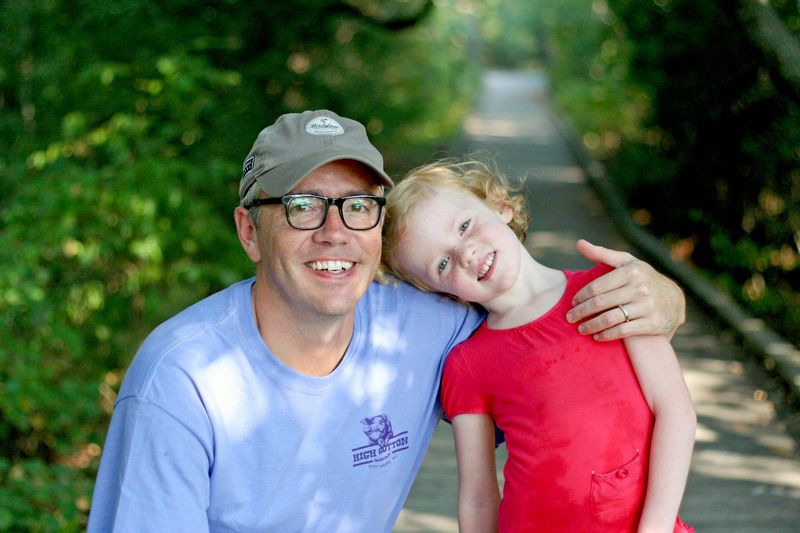 The live oaks were so beautiful on this walk over to the bay side of the islands.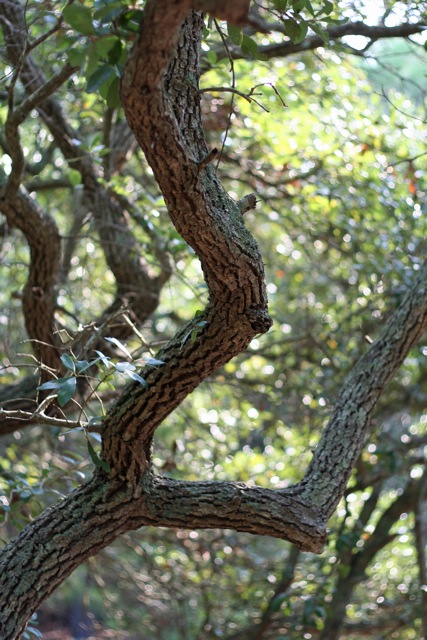 We found a cicada shell and Anne brought it back to the house to show her cousins.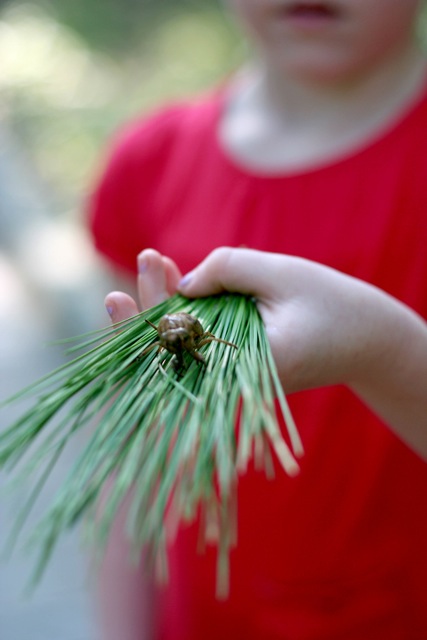 Ewww.  But cool too.
We also took a guided trip up to the north end of the islands to see the wild horses.  WE have come to this beach for several years, and I always see the ATV tours heading up the road to the off road beaches.  It was fun to finally go up there ourselves to see these horses.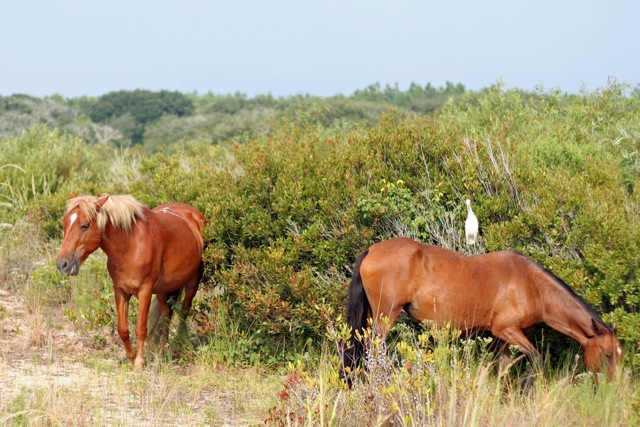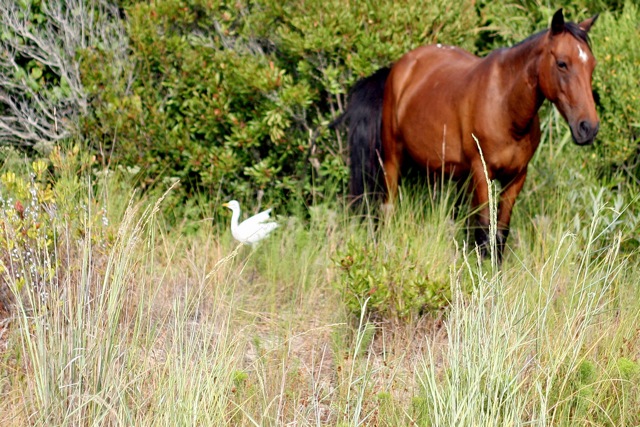 I know you are missing seeing Cal in all his beachy glory so here is one last picture.  I didn't make him anything cute to take to the beach but he was still happy and as usual, doesn't seem to notice the dis proportionate amount of things I sew for his sisters compared to him.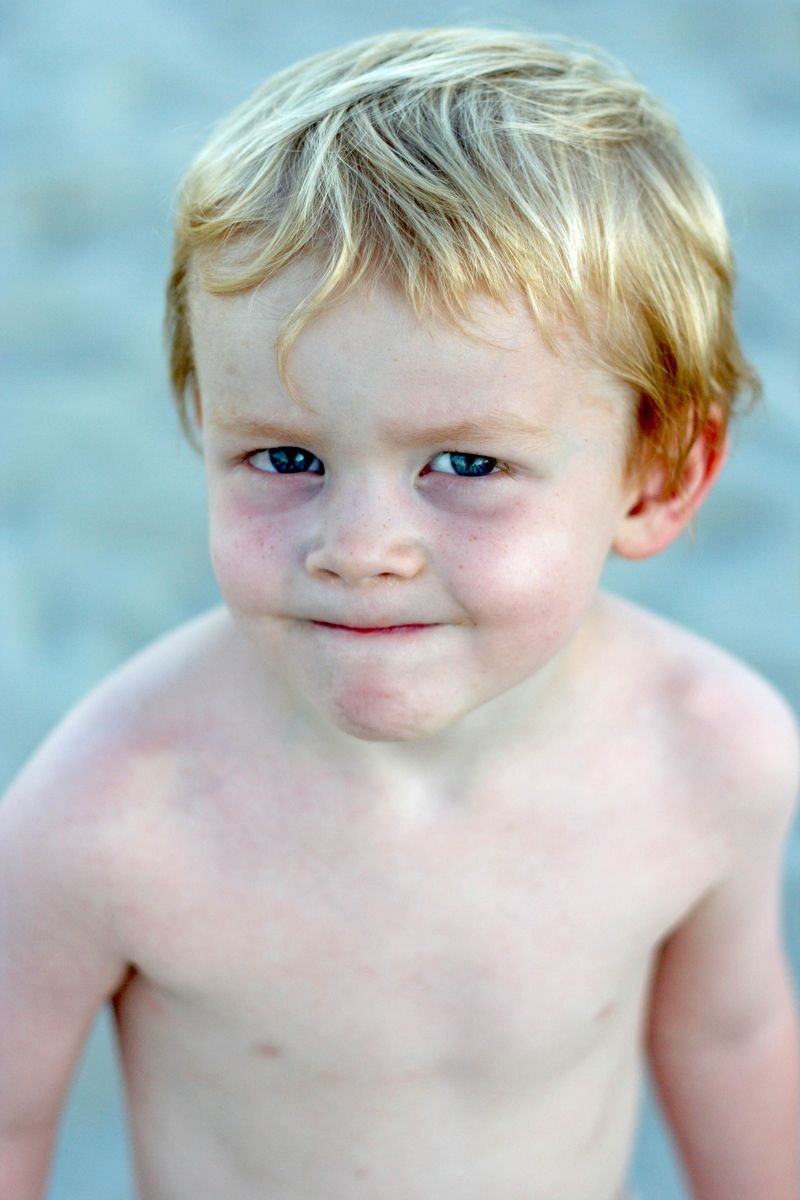 I did buy him a $3 toy gun and a bucket at the dollar store and he was very happily entertained all week!  Hope you are enjoying your last few days before school starts too!