I was thinking a lot about all the giveaway comments and how I agreed with so many of the DIY challenges.  Then I realized that I actually have done many of those challenging things myself and shared them on the blog over the years.  I figured that maybe the fact that if I have done it, might inspire you to try too!   So, here are my quilts from over the years…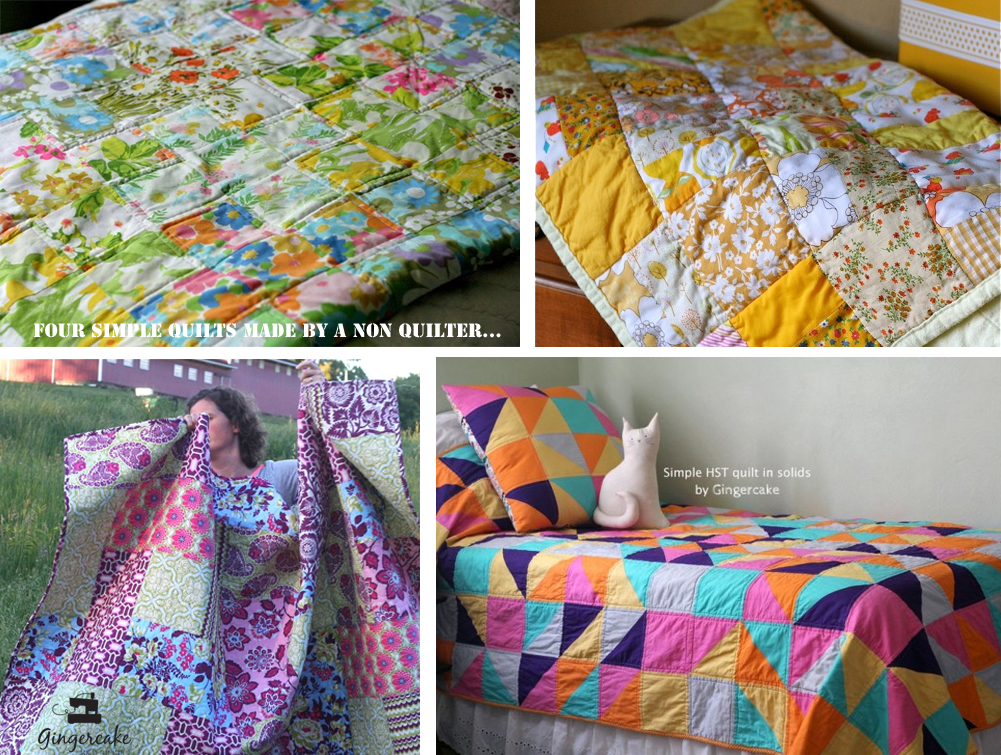 My first quilts i made were baby quilts for friends.  In fact, I even made a fun tutorial for them if you want to try.  Baby quilts (or even mini quilts) are a great place to start!  The yellow quilt in the top right corner above is one of those baby quilts-  I called it the Sunshine quilt.  I loved all those yellow scraps together.  I still like to make these types of quilts- they are colorful and pretty and use up lots of scraps!
My first BIG quilt was the twin size Plus quilt I made from vintage sheets above on the top left.  I used Jeni of In Color Order's tutorial.  A plus quilt is a great place to start since it is just squares and comes together nicely.  I am not going to lie- the actually quilting on my machine was a big challenge.  Quilting a big piece on your regular home machine is not especially easy but it is do able.  And, I think going into it knowing that it is a long process, will make it easier.  My quilt was not perfect but it is loved and I am always proud of myself for completing it every time I see it on my 9 year old's bed.
It took me a few years to accomplish a large quilt again but this time I got a little wiser.  I loved the Joel Dewberry Heirloom fabric line and knew it would be a great for my own bedroom.  I made a queen size quilt using a simple large block (that I made up but it was extremely basic!).  That is the quilt on the bottom left.  I knew that I did not want to quilt that large size on my sewing machine so I asked at my local quilt shop if they had someone who would quilt it for me.  The answer was YES and I paid $100 to have someone with a long arm quilting machine take care of it.   I also found out later that I could have rented a long arm quilting machine at another quilt shop for only $25 an hour which might be fun to try some other time!
For my oldest daughter's birthday last May, I made her a fun HST quilt in bright solids.  HSTs are half square triangles and they are so fun.  I like to use this tutorial here.  I bought 6 yards (1 yard each) of fabric.  I made simple squares out of the left over fabric to fill in.  I did quilt this one on my own machine and it wasn't too bad.  I knew to take my time and be patient with myself!
So there you have it- FOUR quilts made by a non quilter.  When I read the comments about quilting- I totally agreed.  It is intimidating and challenging.  But challenges are good and make you a better sewer.  Maybe start by making a pinterest board to get inspired.  Here is my quilts & pillows pinterest board so you can see what I am talking about and follow along.
Follow Virginia Lindsay's board Quilts & Patchwork on Pinterest.
After you make something simple to get yourself going, you could try one the fantastic quilt patterns that are available now.  Almost all the fabric designers have quilt patterns available as well as many bloggers and authors.  In the Ultimate DIY Bundle (for sale only now until January 26th!)  Alison Glass has 2 BEAUTIFUL quilt patterns available.  They are a steal as part of the bundle  since each are $12 individually.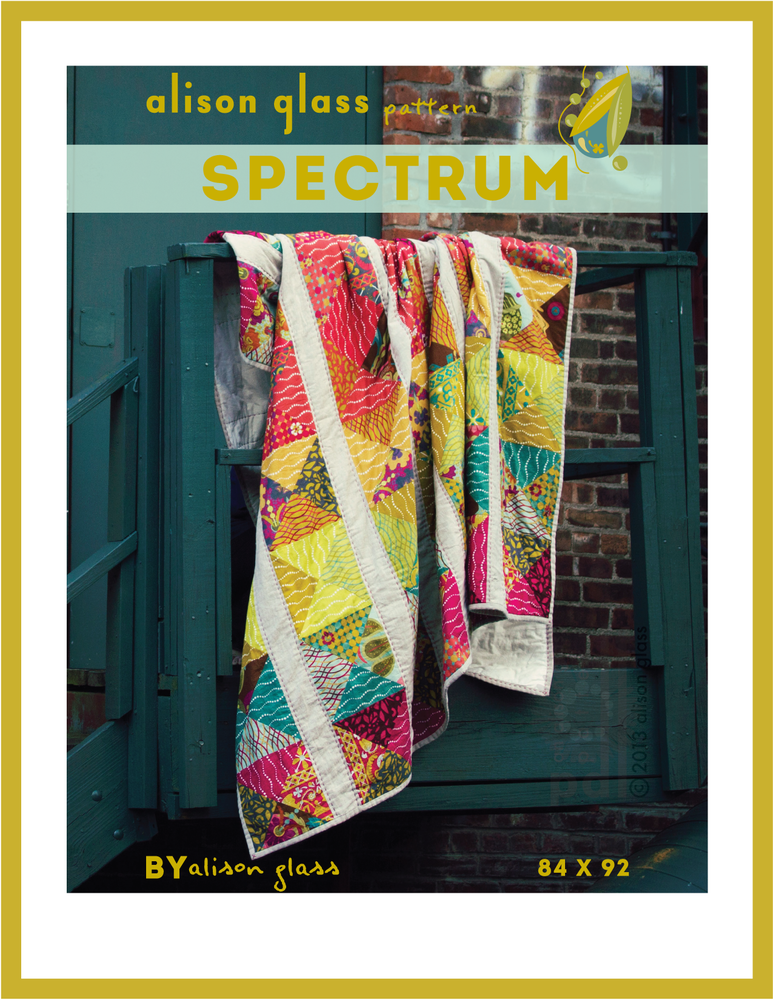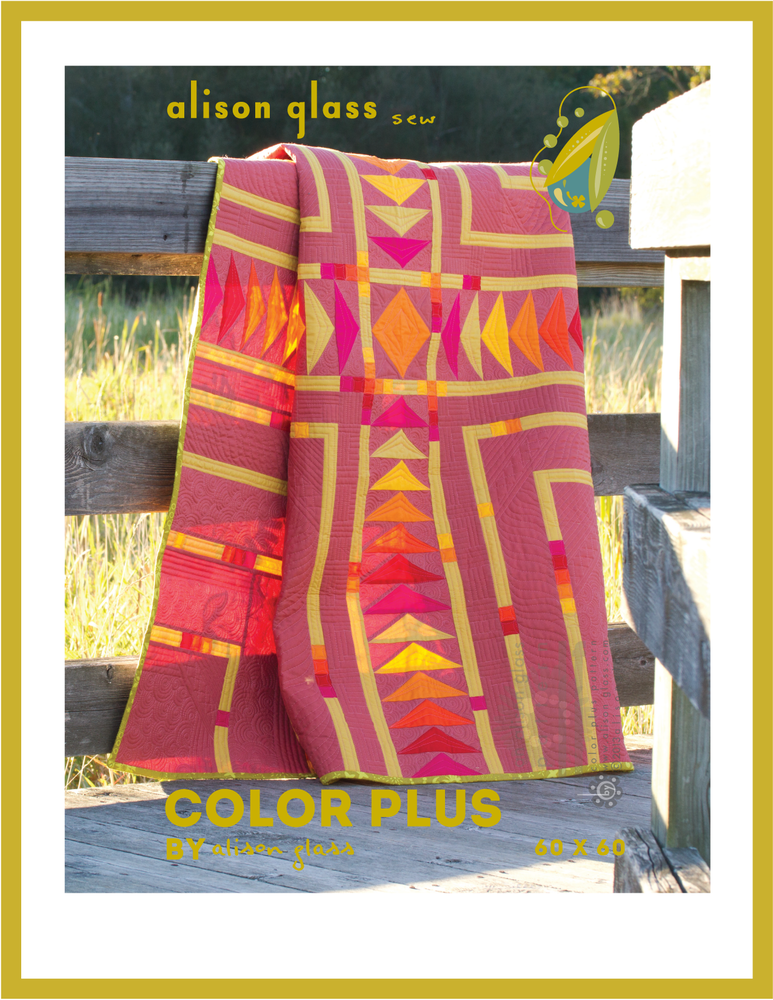 Gosh- those quilts make my quilts look like they were done by a NON QUILTER for sure 🙂
Click on the image below to get your Bundle!