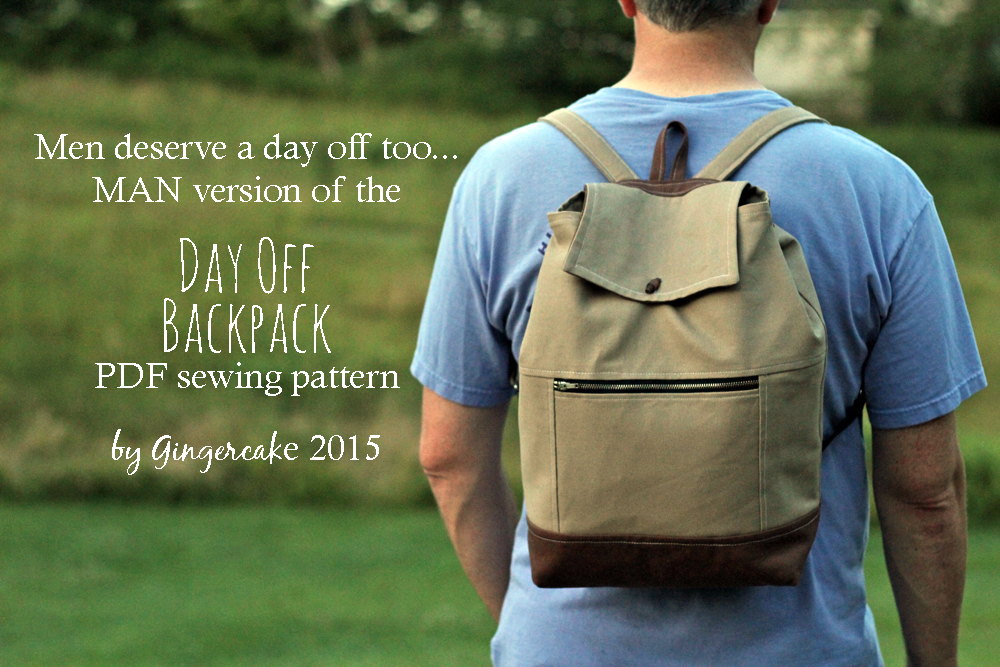 Honestly, my husband might have asked me to make him a backpack to take to work about 5 years ago.  FIVE YEARS!   But I still get the credit for finally making him one!  He rides his bike to work in the summer and need something to take his change of clothes in.  He is pleased to have his own Day Off Backpack (even though he will be using it for work days!).  The only one without a backpack now is my 7 year old son, so expect some cute boy version coming in the next couple of weeks…
I might actually have change out the flap and just do a magnetic snap for him since he thinks the button will be too hard (I guess buttons on backpacks are too hard for men-  haha).  This is the MASH UP version of the backpack.  The Mash up uses the boxy base, adult measurements, and zipper pocket of the adult size and also the flap and snap sides of the child version.   There are instrutions to make the mash-up in the pattern…
For the fabrics I went over to JoAnns and bought a yard of the Khaki duck cloth and a 12" cut of the dark brown duck cloth.  On sale for only $6.99 a yard right now and duck cloth has a 60" width!  I used a brass zipper (but had to pull out those metal pieces which was kind of a pain) and a toggle button.   I did not use any fusible interfacing since the duck cloth had plenty of structure.  I also used duck cloth for the lining.
One mistake I made was adding batting to the straps.  I thought it would be nice for him to have padded straps for the bike ride.  But, they are already made of the thick duck cloth and adding the batting made them way too thick for the triglide slides.  I had to really work them through the slides!
Today is the last day to enter the Pattern and kit giveaway!  Head over to my last blog post here to enter!  While you are there, read some of the day off activity comments- they are so fun and relaxing.
AND, don't forget that the pattern is on sale for just a few days longer!