Back in October 2014 (four and 1/2 years ago!) I posted a photo of this vintage quilt top I was given by my neighbor on instagram. His mother in law made it from flour sack fabric. I was so thrilled to be given such a precious gift!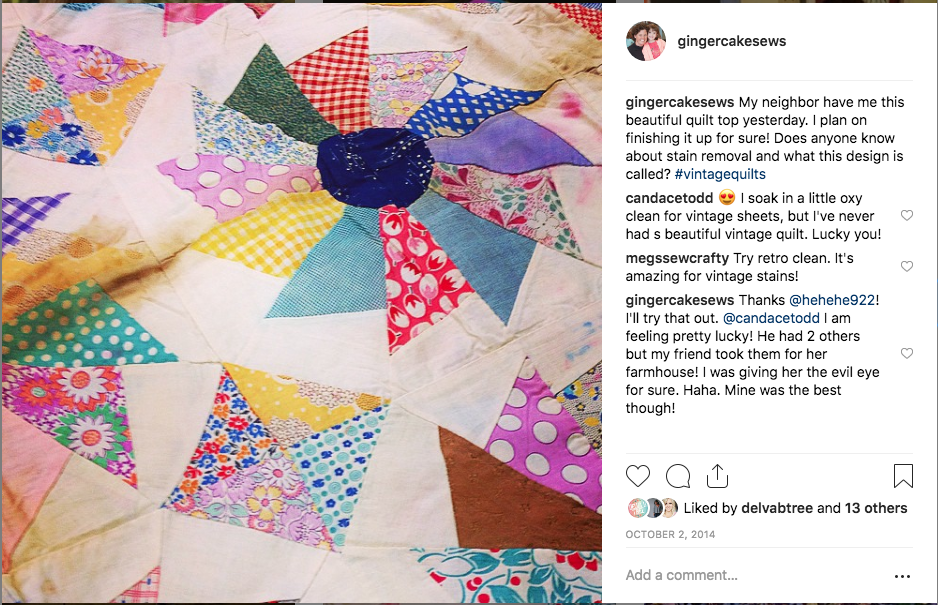 Back then, I had to first figure out how to clean the quilt top. I used this Retro Clean stain remover. It worked pretty great! Then I had to figure out how to quilt it which was quite the challenge. I wanted to do something special and fitting with the vintage feeling and didn't want to just use my machine. I took it to a local quilt shop to be finished by a long arm quilter but she was hesitant. She told me that I really should have it hand quilted. I was like WHAT?? I can't possibly QUILT this huge (full size) quilt BY HAND. Impossible!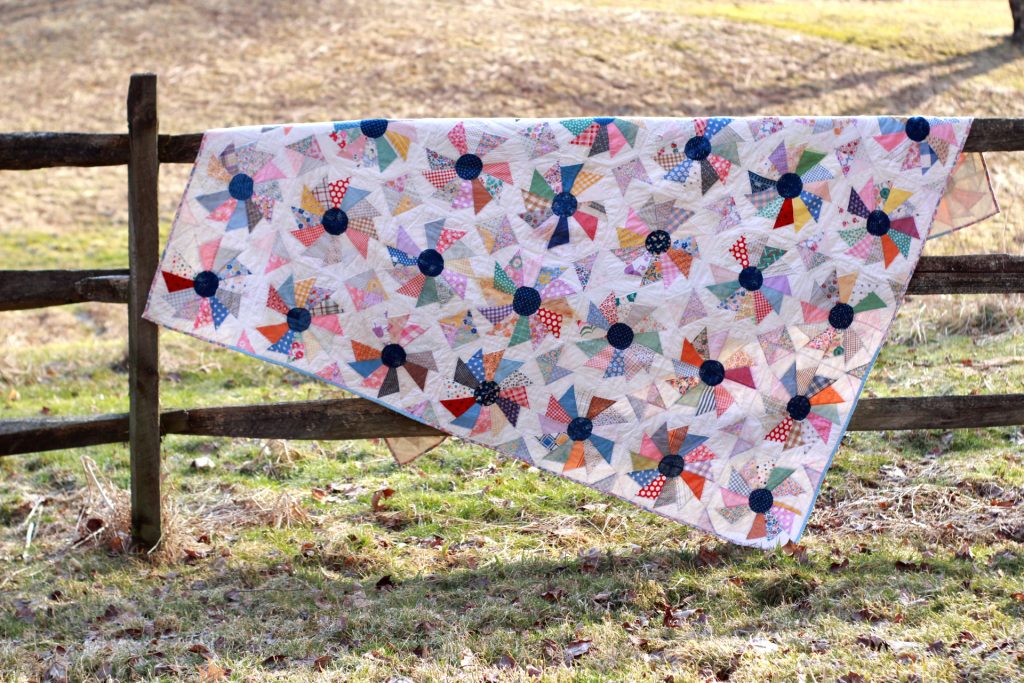 It turns out that is is possible. It just takes a long time and many winter hours on your lap in front of television 🙂 . I really got into it winter of 2018. Each night I would try to complete one of the blocks and this made it progress nicely.
I used a large quilting hoop and just stitched away. Friends, you would actually really enjoy this. Seriously! I felt very relaxed and it was nice to make slow progress on something important. I loved thinking of Mrs Nagy (the creator of this quilt top) smiling down at me from heaven while I finished her handi work.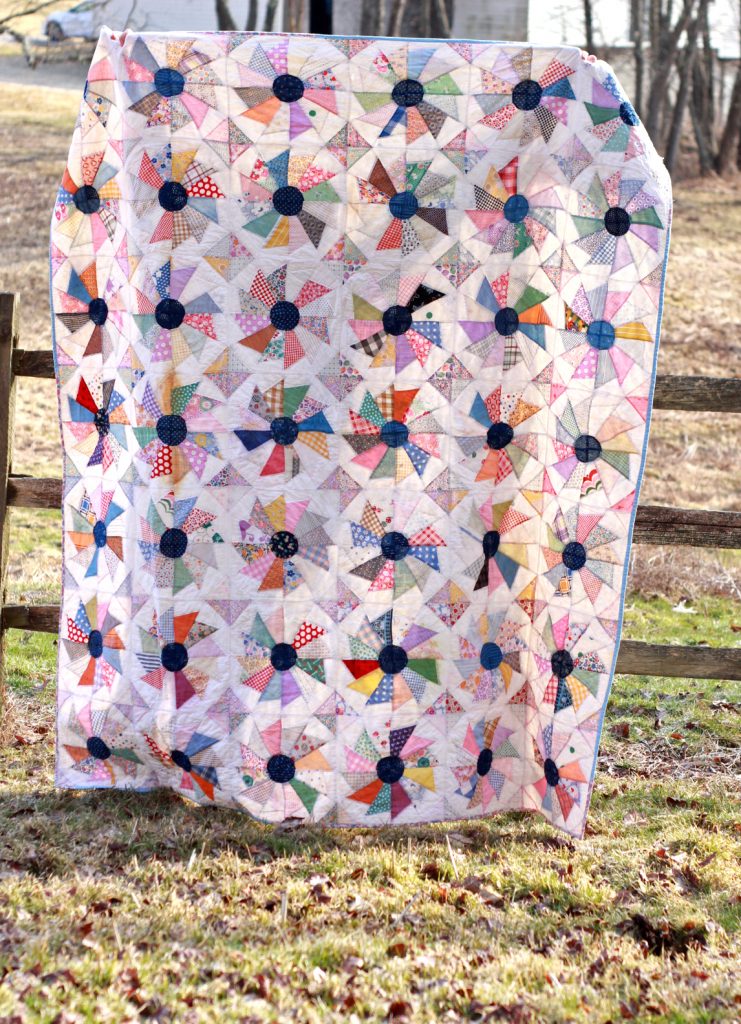 I don't know the exact pattern unfortunately. I think it's in the Dresden plate family. But it also looks like a pin wheel. Anybody know what this block is called? I love it though and I love how many different fabrics she used- obviously scraps from many other sewing projects 🙂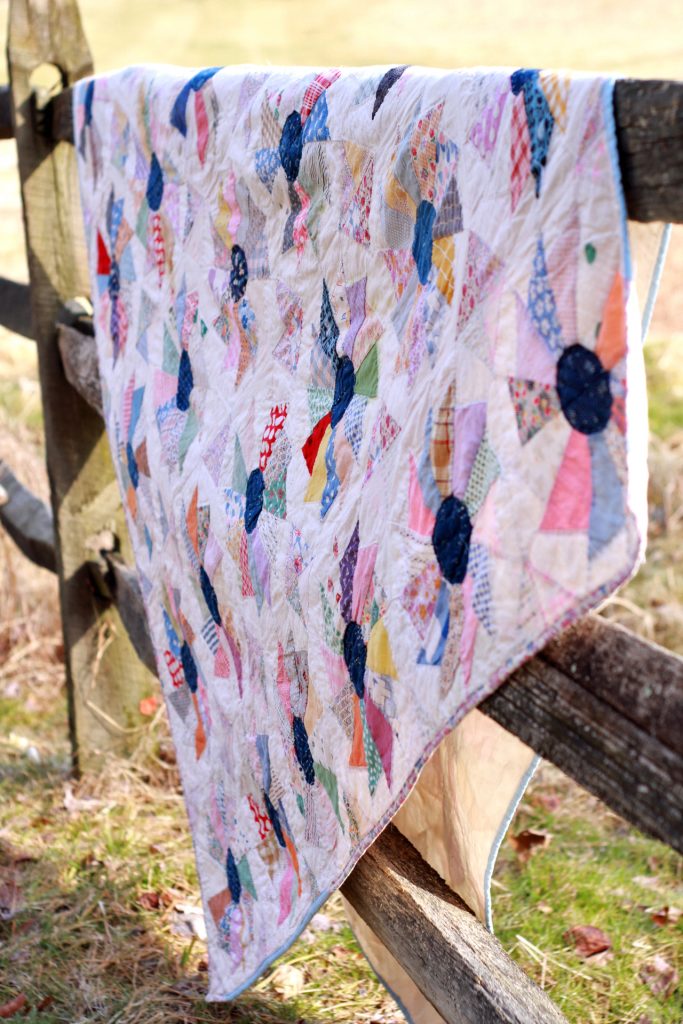 My stitches are very far from perfect and there are tears and repairs from it being so old. Her piecing wasn't perfect either! But it is pretty great and all pieced by hand. The quilt shop lady told me "frankly, the quality is somewhat poor" but not to me. To me, it is wonderful and gorgeous and deep in local history. This lady was my neighbor and lived here on my street long before I was even born!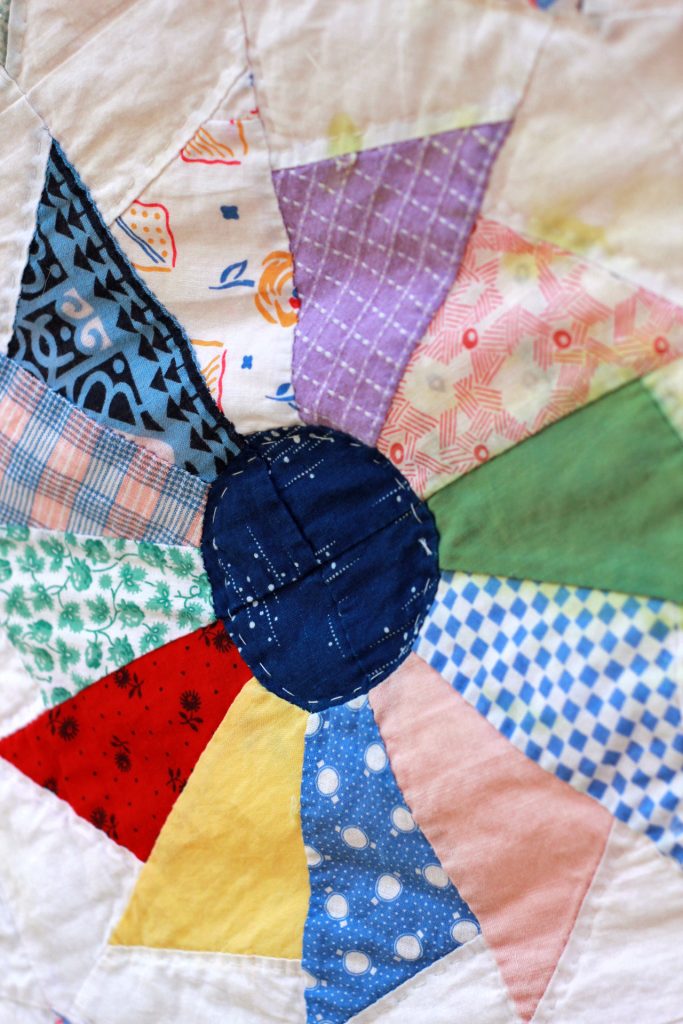 I used a 90" cream cotton backing fabric. I also used cotton batting. I did machine bind this quilt. Sorry to my very traditional friends! But I wanted to start using this quilt and hand binding was not in the cards.
This was finally completed in February 2019 and we used it on our couch to keep cozy on some cold winter nights this past month. I told my kids NEVER PICK AT ANY THREADS. So hopefully it will last for awhile because even though it is new to me, it's probably about 80+ years old!
Let me know your thoughts- do you know this specific quilt block name? Have you ever finished a vintage quilt top? Are you familiar with any of these fabrics in my quilt? I can't wait to hear from you!