Over the winter break we took a trip to Nashville to visit my brother and his family.  We had a great time.  I wanted to share some of our experience in case you are thinking about taking your family there!  Nashville has become so popular and it's no wonder.  There is plenty to do in this fun and entertaining city…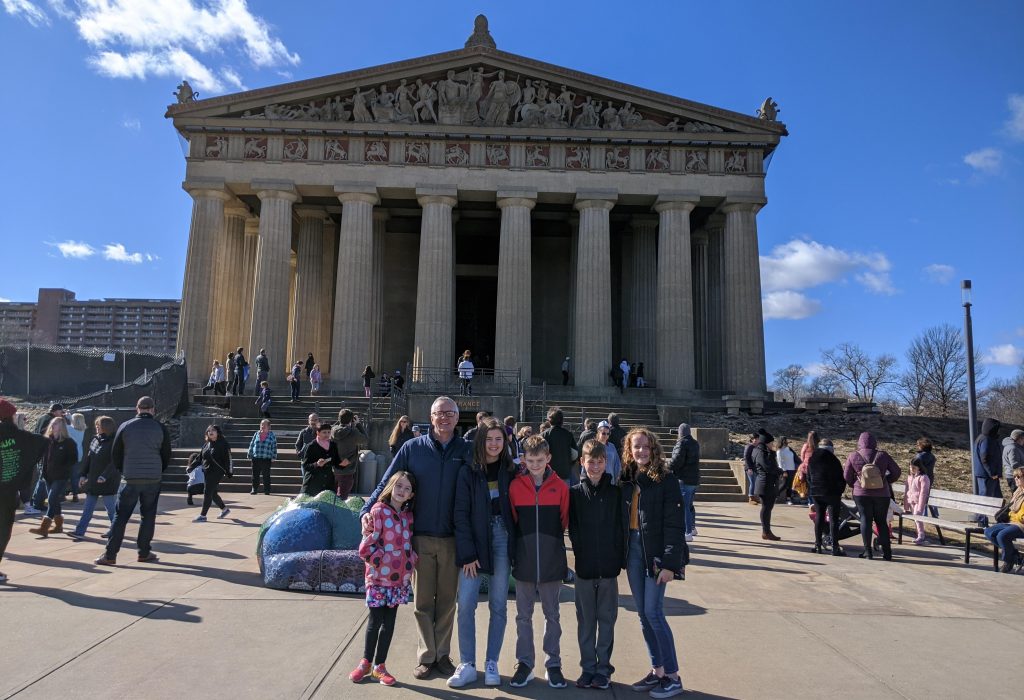 "After a LONG rainy drive we had 3 beautiful days in the city.  One of the highlights was a visit to the Nashville Parthenon pictured above.  It was originally built for the centennial celebration of Tennessee becoming a state in 1897, and then permanently rebuilt in the 1920s .  Before Nashville was known as "Music City", it was known for being the "Athens of the South" because it was a center of education and southern culture.  For about $5 a person, you can go inside and see the art museum and a HUGE and very cool statue of Athena.  We all loved it- especially my son who is a big fan of the Percy Jackson books and movie:)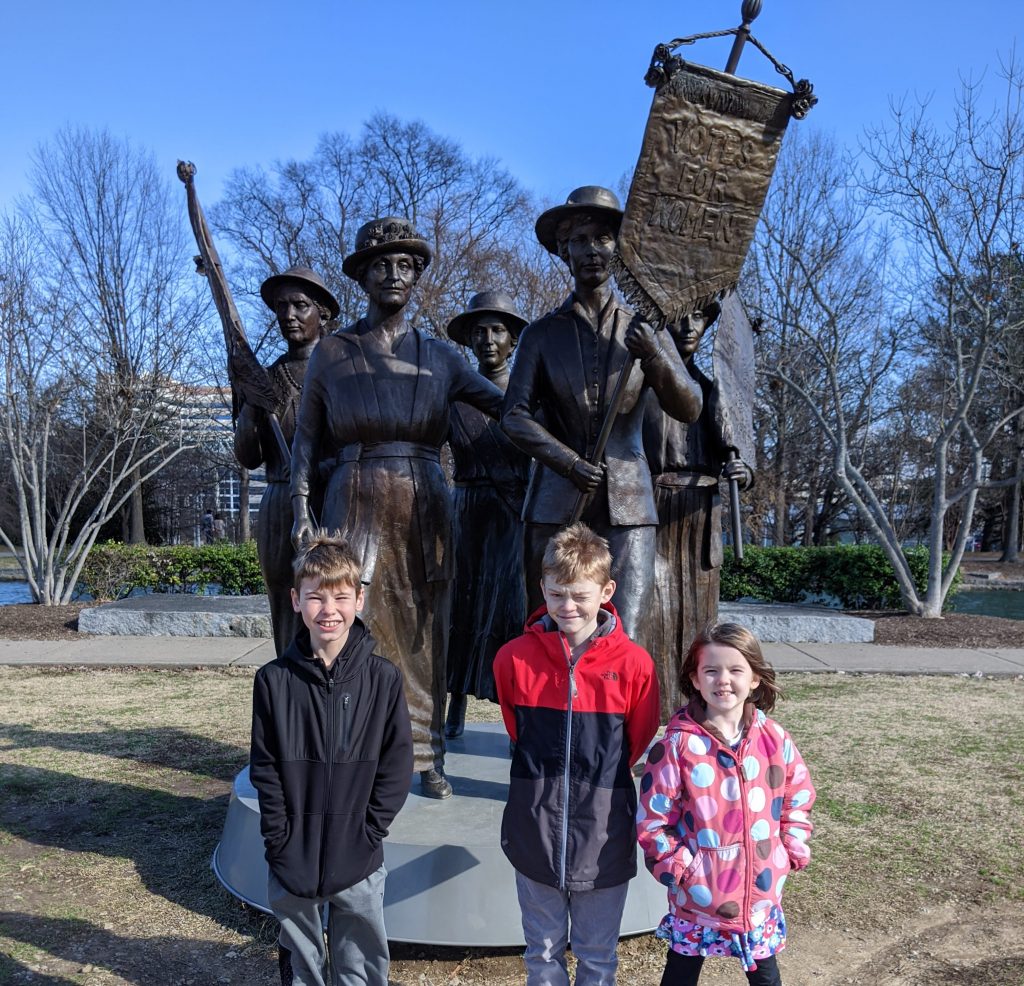 Also near the Parthenon was a statue of the these 4 famous Suffragettes.   I didn't know that this state and in particular this location in Nashville- Centennial Park, played such a big role in getting the women's vote or the 19th Ammendment passed.  Women gathered here by the thousands to rally for the vote.  Tennessee was the 36th state to ratify the ammendment and that was the 2/3rds needed to get it passed.  The Tennesse legislature (all male) only passed it by 1 vote.  After that day, the ammedment became law and all women in the US got the vote!  Can you tell I am still a history geek at heart??
Sometimes traveling with a 7 year old and a 15 year can be a challenge.  While my youngest got to play with her cousins, my oldest was super happy to visit the MANY local coffee shops.  Since my brother lives in the trendy 12 South neighborhood, we were able to walk over to several of them.  We liked the Frothy Monkey and Bongo Java in particular.
Speaking of 12 South Neighborhood, I was really looking forward to visiting Anna Maria Horners Craft South shop which used to be super close.  I panicked, thinking she had closed but then with a little research saw that she just moved to a bigger spot in another neighborhood.  Phew and congratulations to the very talented Anna 🙂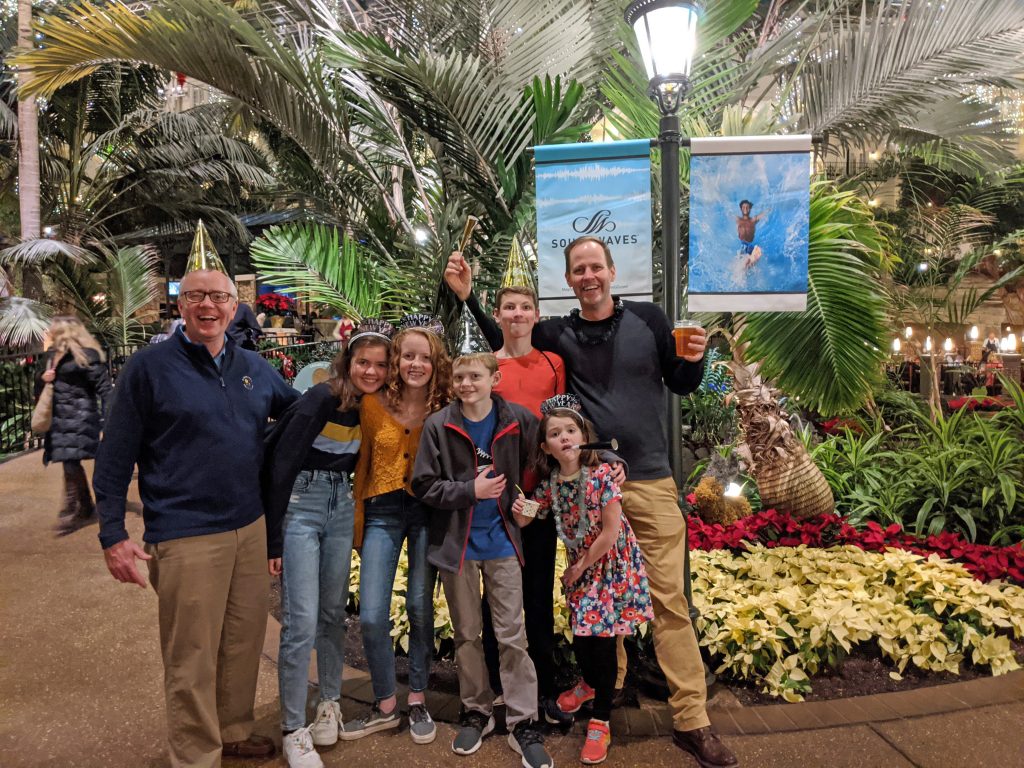 For New Years Eve my brother took us to the Gaylord OpryLand Hotel.  It was amazing!  We didn't stay there, we just parked and then walked around in the BEAUTIFUL gardens and had so much fun.  Warning though- this was pricey friends.  We had dinner and ice cream and a few adult beverages and we spent a small fortune.  It was worth it since and I haven't done anything for New Years eve in years.  We were there from about 2:00 to around 8:30 which was perfect!  I would highly recommend visiting to see the gardens and the fanciness 🙂 . Also, they have a really fun water fountain show which you can a bit of below…
PS- I know some of you will notice that my little on looks stressed in the photo above, but she was happy!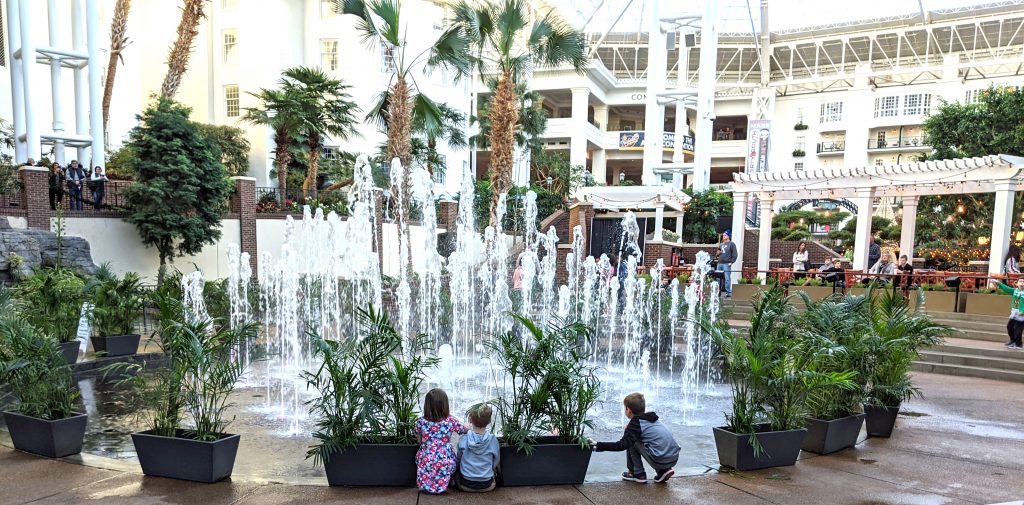 Want to see another Gingercake Family Trip?
With 4 kids and a budget, we still like to have fun family vacations!
My husband has really gotten into riding his bike in the past few years.  On trips, he likes to get up early and explore.  Even though we all didn't make it to Honky Tonk Highway aka Broadway Street, he road his bike there early one morning.  I would have loved to hear all the live music from aspiring county musicians but it's not really kid friendly!  Below is a photo of his beloved bike on Broadway…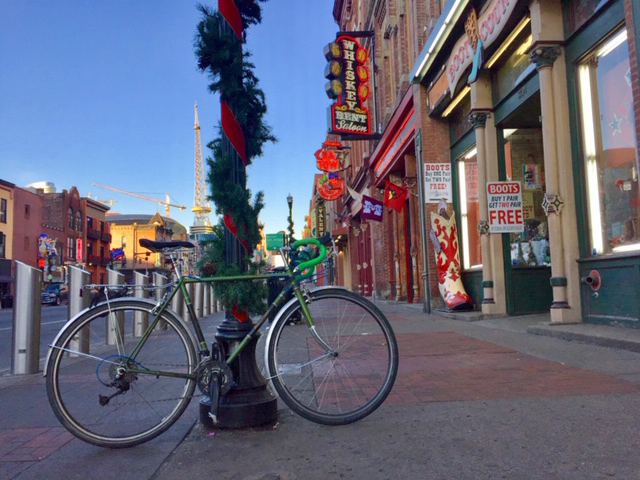 We also had amzing BBQ and lots of fun at Martins downtown.  If you go there, head upstairs so the kids (and you) can play shuffleboard and ping pong.  It's also nice to go early before the adult crowd.   And, the food is fantastic!
We left extra early for our drive home to Pennsylvania so we could stop and see Mammoth Cave National Park.  Amazing!  I booked the Historic Tour after calling and talking to a NPS representative.  You need to book in advance for sure- one day at least.  This tour was so fun and interesting and beautiful.  I will say though, that it was pretty rigorous- 2 miles long and 2 hours.  The cave is huge but then narrows into small sections which were a little challenging.  Also, there are a lot of stairs to climb out of the cave.  We all made it through happily though and felt so amazed to see this natural wonder below the seemingly typical south central Kentucky landscape.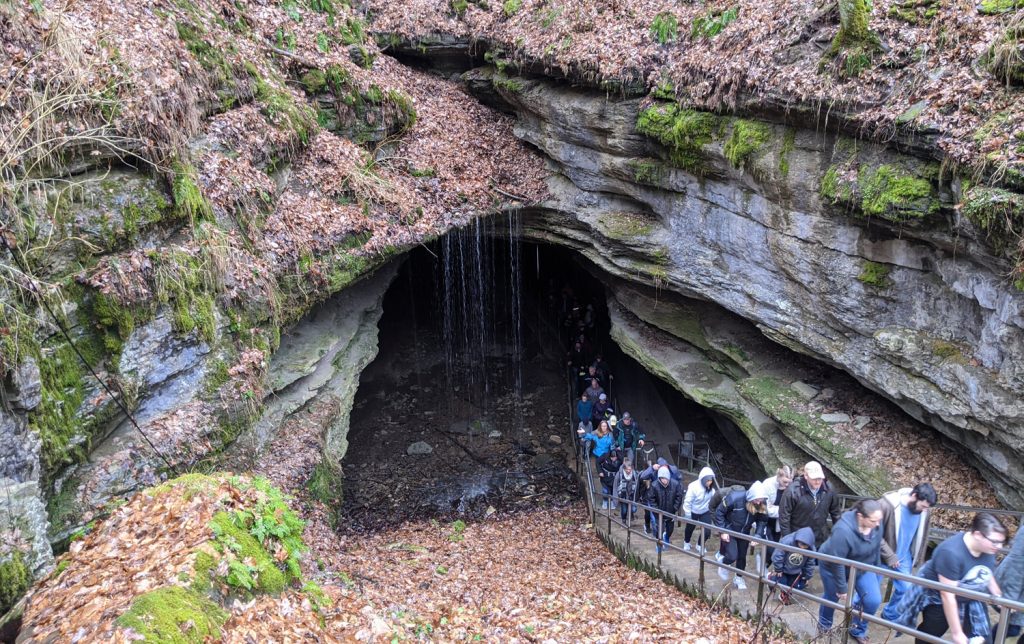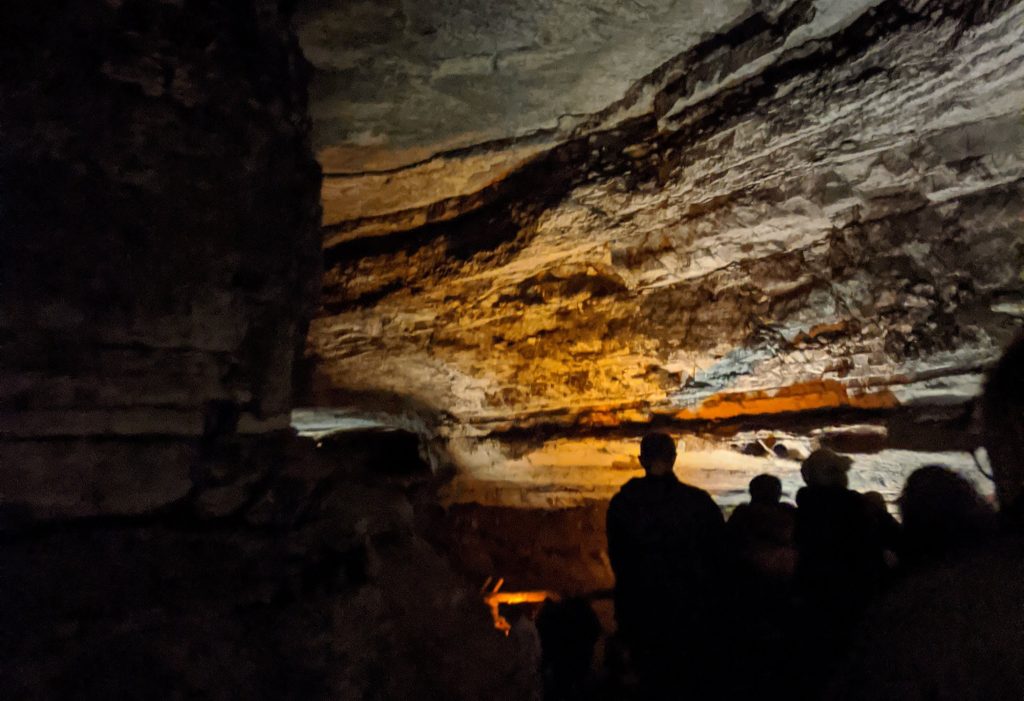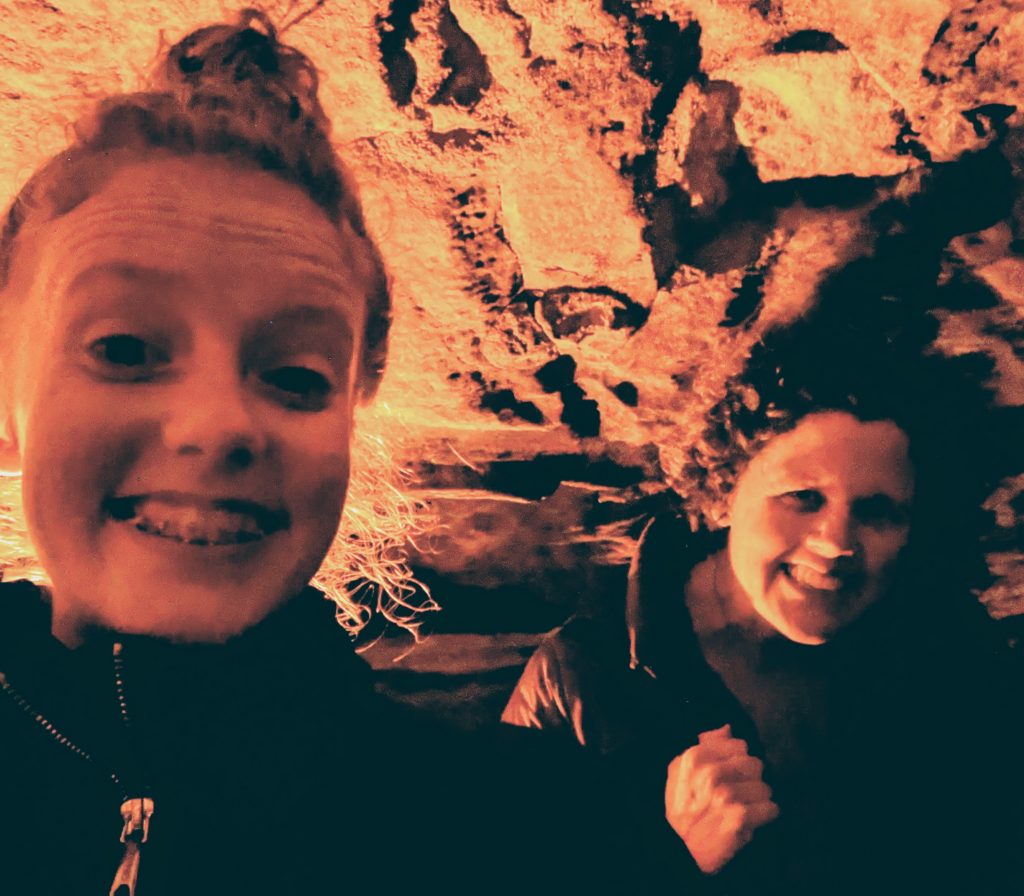 That's a wrap, friends!  We had a great trip- also plenty of disagreements, upsets, and grumpiness.  But as a very wise sister in law once told me, on an excursion with kids, if it is 51% positive, that a win!  So, YAY, we WON!  This trip was at least 85% positive if not more 🙂 . She also would have said for me to get myself into more photos.  But now I am so happy to be home and back to my sewing room.  Do you have a trip to recommend to me?  Let me know in the comments below…