My newest Youtube video features this adorable roll-up organizer!  I love to make easy things to sew and this is definately one of them! We used mine to for bathroom supplies for my girls going to camp but the things you can use it for are endless, and it's so easy!  I know you will love to sew it!  Here is a sneak peak of the organizer you can sew…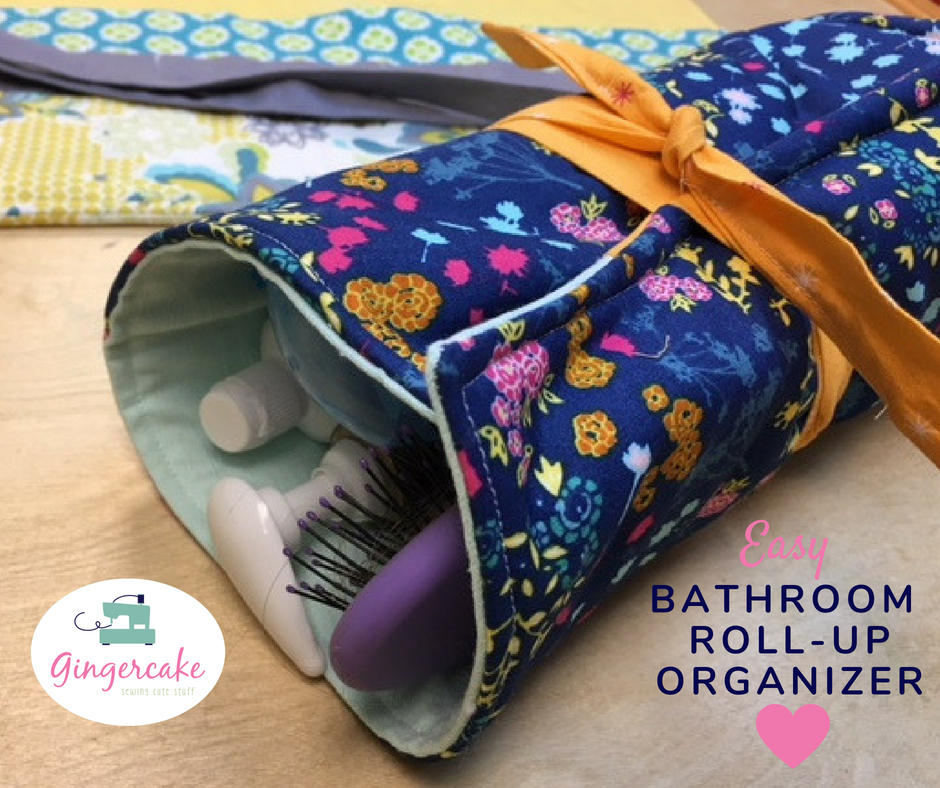 Click below to watch the video to sew your own!  You can make this in about an hour, such easy things to sew! 🙂  Enjoy!
Here are the things that are needed:
for exterior:
1 piece quilting weight cotton 10" x 15"
1 piece fusible fleece 10" x 15" 2 pieces 2" x 17"
cotton fabric for ties
for lining:
1 piece denim (or similar weight) fabric
10" x 15" 1 piece 7" x 15" quilting cotton for small pocket
1 piece 10" x 15" quilting cotton for medium pocket 1 piece 14" x 15" quilting cotton for large pocket Sewing machine, coordinating thread, fabric scissors, iron, ironing board.
It is so simple and easy. It has different sized pockets for easy organizing of all of your bathroom supplies! You can put toothpaste, hair brushes, shampoo and conditioner, or any other things you can imagine! It is extremely customizable and you can any thing that you feel would fit.
This project will be fun for more experienced sewers but beginners will also enjoy learning some new skills. You can do it! Imagine using the organizer for make-up, craft supplies, school supplies and more! Let your imagination run wild with fabric combinations and uses for this handy sewing project by Gingercake.
I hope you enjoy the video and find this easy sew project as useful as we did! My girls are very excited to use these at their stay-away camp and I hope you can find the joy they did on all of your adventures!